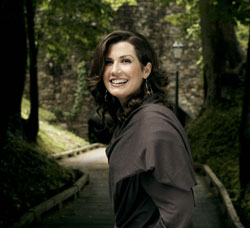 Touted as her first new music in seven years, Amy Grant's new album, "Somewhere Down the Road," is something less and something more: only six of the record's tracks are new songs, mixed in with previously unreleased tracks, old songs represented and a cover of MercyMe's "Imagine."
But among the six new releases are some of her most personal and beautifully crafted work, that make "Somewhere Down the Road" possibly a downpayment on a new era for the Christian singer who has been a star since she was 17 years old.

The intimacy of the album is no accident. The record is in a sense homemade: it's the first to be produced in the studio Grant and her husband, country singer Vince Gill, added to their home in Nashville, and the new tune "Overnight" is a family affair: Grant is joined by her daughter Sarah Chapman, who, as was first reported here, has been slowly developing a singing career under her mother's wing.
Home is also the turf on which Grant's lyrics play out. "Unafraid" is a song about how love gives us courage to face the phases of our life. It opens with the singer waking in bed beside her husband, wondering where he'd learned to talk so directly about their relationship. "Overnight" similarly could be a kitchen talk between mother and daughter, the parent cautioning her impatient youngster to let life unfold in its own time.
Even the country-tinged radio single from the album, "Better Than a Hallelujah," trades on intensely private moments–"a soldier's plea not to let him die," "a mother's lullaby"–sounds more welcome to God than a choir's hymn. Everywhere on this album, Grant wants to sacralize "the beautiful mess we are."

Most impressive and touching is "Come Into My World," a plea to a man who might save the singer from loneliness. This time the house she inhabits is a tomb, and the friends that saw her through a crisis have moved on. "No one comes to call but you," Grant sings, but warns that the burden is on him to break through the walls that trap her. "There won't be another invitation," she says. "Please be brave and come into my world."
The music accompanying these divulging moments is aptly simple and direct, and includes the occasional sound of a finger zipping along a guitar string–the musician's equivalent of a visible brushstroke.
Grant, by touching on growing pains for herself and her nearly adult children, seems to be cleaning out the closet, making ready for what lies ahead. In 2007, she signed on with EMI's Christian Music Group after three decades with Word Records. Her initial releases with her new label were Christmas music and covers of hymns released to seal the deal with some easy profits requiring no original work. The half-old, half new "Somewhere Down the Road" is the next step in what promises to be a fruitful season of transition.