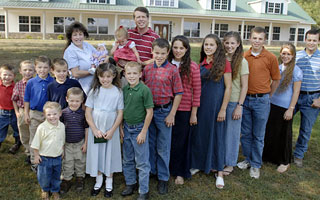 Michelle Duggar, pregnant reality TV mom on TLC's "18 Kids and Counting" (soon to be "19 Kids and Counting") was rushed to an Arkansas hospital over the weekend due to gallbladder issues according to People Magazine.

According to a network representative, Michelle is doing well, but initially there were some fears that the baby was in danger.
"The pain from a gallstone was generating some contractions. Just to be safe, she was airlifted a Little Rock, Ark., hospital, so that in the unlikely event that she had to be delivered early, she would be close to a NICU center. Though there were some fears that the baby was in trouble initially, it soon was discovered to be solely the gallstone causing the discomfort. Michelle is resting comfortably, and the baby is doing fine."
Our thoughts and prayers go out to Michelle Duggar for a speedy recovery and a healthy delivery. Post your own thoughts in the comments box below.
Learn more about the Duggar family in the Beliefnet
Interview with Michelle and Jim Bob Duggar.