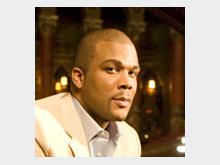 This past Wednesday I had an opportunity to interview none other than blockbuster filmmaker, playwright, screenwriter, producer, director, and actor Tyler Perry about his latest movie release, "I Can Do Bad All By Myself." The movie, starring Perry as Madea–of course, Taraji P. Henson, Mary J. Blige, Gladys Knight, Adam Rodriguez, Brian White and Pastor Marvin Winans, is loosely based on his play by the same name and is about a singer with a drinking problem (Henson) who is forced to look after three children. In the midst of this she must also decide whether to continue living for herself or opening her heart to family , faith, and love.
In my interview, I asked Perry why he decided to release the movie on September 11th, a day that brings with it a palpable grief and sadness, and here's what he had to say:
"That was a good opening slot, and we took it. But, what I think is really great about it is the day is marked with so much tragedy, I think that it would be good for people to go out and see something that's going to lift them up a little bit as we respectfully remember what happened because we never want to forget it. And to have this movie come out on that date, I'm just hoping that, as difficult as it was for a lot of us to move through, that some people are inspired and lifted by the film."
Catch Tyler Perry's "I Can Do Bad All By Myself" in theatres starting today. Catch my interview with Tyler Perry and Taraji P. Henson early next week.