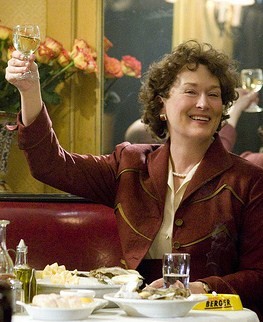 I think it's so great that Julia Child's cookbook "Mastering the Art of French Cooking" is finally on the New York Times best-seller list. This interest in all things Julia stems from the popularity of the recent film "Julie & Julia," in which the amazing Meryl Streep portrays Child..
And after hearing such great things about the movie–Movie Mom gave it an A minus–it really makes me want to go check it out to get somewhat of a sense of how Child really was. I also want to read "My Life in France," currently at number 1 on the Paperback Nonfiction list and learn more about her.
I did some poking around online and found some really inspiring quotes from Julia Child. Here are 7 great ones…

"Life itself is the proper binge."
"I think the inner person is the most important. …I would like to see an invention that keeps the mind alert. That's what is important."
"Find something you're passionate about and keep tremendously interested in it."
"The only time to eat diet food is while you're waiting for the steak to cook."
"Dining with one's friends and beloved family is certainly one of life's primal and most innocent delights, one that is both soul-satisfying and eternal."
"You'll never know everything about anything, especially something you love."
What are your favorite Julia Child quotes and/or memories?