While Tom Cruise and Katie Holmes are pretty much always in the media spotlight, Scientology boasts a bevy of celebrity couples. They may not get as much publicity as TomKat, but many are involved in Scientology charities, appear at Scientology functions, and speak openly in the press about how their religion has changed their lives.
Here are seven of the most prominent celebrity Scientologist couples.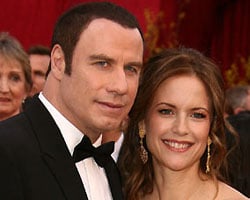 1) John Travolta and Kelly Preston
John Travolta, a veteran TV and film actor, and actress Kelly Preston married in a Scientology ceremony in France in September 1991, but they had to have a second ceremony because their wedding was considered invalid in France. The couple parented two children. Ella Bleu, who is 9-years-old, and Jett, who passed away earlier this year.
Last year, rumors began to circulate that Jett Travolta was autistic and that his parents had withheld treatment because Scientology does not believe that autism is a disease. Travolta and Preston have denied these stories. Scientology does not approve of mood-altering drugs, and Preston is an outspoken opponent of the use of Ritalin to treat children diagnosed with ADHD.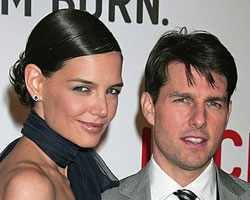 2) Tom Cruise and Katie Holmes
These actors are by far the best-known Scientologist couple. Cruise was introduced to Scientology by ex-wife Mimi Rogers and credits the religion for curing his dyslexia. Cruise's second wife, Nicole Kidman, had their Scientology marriage annulled so that she could remarry in the Catholic Church.
In 2005, Cruise criticized actress Brooke Shields for taking antidepressants to deal with post-partum depression. He helped to establish a facility in New York City that used Scientology principles to help 9/11 rescue workers who had been exposed to toxic chemicals.
On Nov. 18, Cruise and Holmes were married in a Scientology ceremony in Italy with David Miscavige, head of the Church of Scientology, as best man. The couple has an infant daughter, Suri.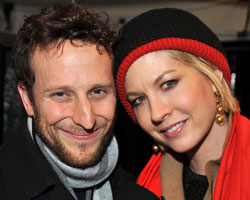 3) Jenna Elfman and Bodhi Elfman
Jenna and Bodhi, both actors, attend services at the Scientology Center in L.A. Bodhi, nephew of well-known composer Danny Elfman, introduced Jenna to the religion. She converted in 1991, and they were married in 1995.
Jenna allegedly once said that she did not contribute to AIDS charities because "AIDS is a state of mind, not a disease." In 2006, they became tabloid fodder when they approached director John Roecker, who was wearing a "Scientology is Gay" T-shirt. Bystanders said that Jenna asked Roecker repeatedly what crimes he had committed. Confronting people with their behavior is common in the Scientology practice of "auditing.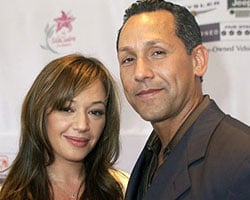 4) Leah Remini and Angelo Pagan
Remini, who starred on the popular sitcom "The King of Queens," married Pagan, also an actor, in 2003. A longtime Scientologist, Remini has been known to send pamphlets about the religion to fans who write to her.
Remini is a close friend of Tom Cruise and Katie Holmes and was one of the first people to see their daughter, Suri, before photos of the baby were made public.
Along with Bodhi Elfman and other Scientology celebrities, Remini participated in the opening of the Scientology "Psychiatry: An Industry of Death" Museum, which links Hitler to the study of psychiatry.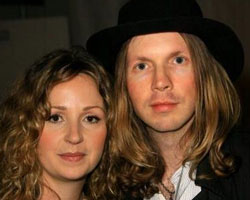 5) Beck and Marissa Ribisi
Writer/actor Ribisi, the twin sister of actor Giovanni Ribisi, married the avant-garde musician Beck in 2004. Beck's parents are Jewish, although he was raised as a Scientologist.
Marissa's website links to Scientology charities and her favorite quote from Scientology founder L. Ron Hubbard.
Unlike his wife, Beck doesn't like to discuss Scientology in interviews. He admits to following the religion and has said that it "brings joy" and "has reinforced certain things that were really constructive and good." The couple has a two young children, Cosimo and Tuesday.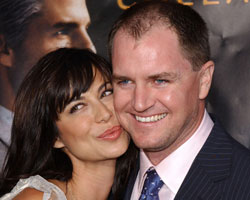 6) Catherine Bell and Adam Beason
Bell, an actor best known for her role on the TV show "JAG," and Beason got married in 1994. In addition to acting, Bell is involved with many Scientology charities, including the Hollywood Education and Literacy Project (HELP).
In 2006, Bell and other Scientologist celebrities, including Isaac Hayes and Jenna Elfman, appeared in a music video called "United," which promotes Scientology's International Human Rights Department.
During an appearance on Howard Stern's radio show, Bell defended Scientology, claiming that the religion has made her a better actress and a more confident person. Beason, who is also an actor, keeps a low profile in the press. The couple has a daughter, Gemma.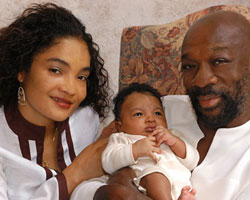 7) Isaac Hayes and Adjowa Hayes
Seventies R&B star Isaac Hayes returned to the spotlight as the Chef on the cartoon series "South Park," but after a controversial episode about Tom Cruise that lampooned Scientology, Hayes left the show in protest. "Scientology is the gateway to eternity. It is the path to happiness and total spiritual freedom," said Hayes. "I know because it has worked for me. The more time and effort I invest, the more I receive. I highly recommend it."
Adjowa, who is Hayes' fourth wife, has no known connection to Scientology. The couple, who has a young son named Nana, were married from 2005 until Hayes' death in 2008.
Honorable Mentions (The Ones Who Broke Up)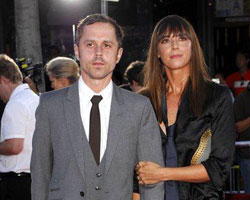 Giovanni Ribisi and Mariah O'Brien:
Though they are now divorced, the couple (Ribisi is the twin brother of Marissa Ribisi) was married for three and a half years and have a daughter, Lucia.
Ribisi is still an active Scientologist and as of 2005, O'Brein was still officially listed as a member, having attained the level of "Clear," which means a person has "been cleared of negative influences."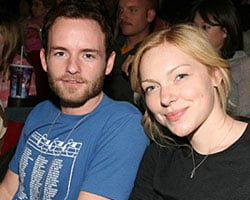 Laura Prepon and Christopher Masterson:
Prepon, best known as Donna from "That '70s Show" dated Masteron of "Malcolm in the Middle" for a few years, up until 2008. Masterson, who is the brother of her former co-star Danny Masterson, introduced Pepton to Scientology (his was raised in the faith).
No word on whether Prepon still considers herself a Scientologist, though websites have reported seeing her at the LA Scientology Center post break up.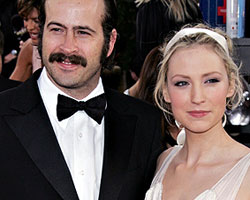 Jason Lee and Beth Riesgraf:
Although Lee's TV persona Earl Hickey of "My Name is Earl," is a believer in karma, yet in real-life he is a follower of Scientology. He is also on the Board of Advisors for the Citizens Commission on Human Rights, an advocacy group created by the Church.
Lee was engaged to Riesgraf, the mother of his son, Pilot Inspektor, but they separated in 2007.
Riesgraf has completed 14 levels of Scientology courses, including "How to Be a Successful Parent," and has achieved the rank of "Clear." Currently, Lee is married to model Ceren Alkac, with whom he has a daughter. It is not known whether Alkac is a practicing Scientologist.
Related Features