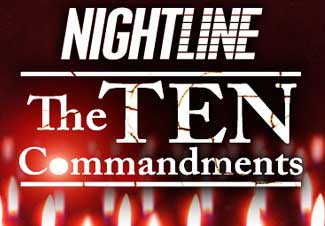 An episode of a show that sounded lame, one that aired during a time that wasn't really convenient, aired Thursday night. I recommend you watch it online here at ABCNews.com.
Were we born to cheat? Is adultery an outdated concept? Should multi-partner relationships be considered under the realm of religious freedom and expression? Are the Ten Commandments relevant? Has the separation of church and state become as much of a cultural reality as it was a Constitutional mystery? Do you invite God into bed with your spouse? Does the woman who has a husband and a female lover have a healthy relationship in God's eyes because she's honest about it?
These questions and more were part of a relevant and respectful dialogue that had more candor than "Dr. Phil," more articulated passion than "Oprah," more steamy material than any of the "Desperate Housewives" series, and more healthy and compelling questions and answers than any church service I can remember.
Cynthia McFadden herself embodied the intersection of media, culture and faith, as she hosted the show from Rev. Ed Young's "Fellowship Church" in Dallas. Rev. Young had the home court advantage from the audience, but the show was fair to each guest and the audience was courteous. In such an environment, the discussion was more stately than Congress even though the sides were far apart.
Along with Rev. Young, panelists included Jonathan Daugherty of Be Broken Ministries, Jenny Block, author of "Open: Love, Sex, and Life in an Open Marriage," and Noel Biderman, CEO of ashleymadison.com, a website for people who want to cheat on their partners. All four claimed to be "happily married."
Highlights from Young: "God invented sex. Big sex. We don't think enough about it…Great sex should happen within the context of marriage…Put God back into bed…Why not have an affair with your spouse?"
Daugherty, a "recovering sex addict" who counsels others suffering from sexual addiction, experienced recovery from a three-year run of finding sexual partners on the internet and, through forgiveness and restoration, remains married and monogamous. His words: "God invented sex so He gets to define what the terms are…I broke that code…I've been on both sides of this equation…Faithfulness and fidelity to one spouse wins."
From Bitterman: "We run the world's premier dating service for people who are already in relationships…We live in an era…where we need to revisit what is right and wrong when it comes to our personal lives..Men used to have multiple wives…Then a time when marriages were arranged…then monogamous relationships….If we cling to archaic notions, the institution of marriage as we know it will cease to exist…The 7th commandment is arcane…the Ten Commandments didn't withstand the test of time."
Block said: "I don't believe in adultery…My husband wasn't upset with my having sex with someone else, but my lying about it…It's not about sex; it's about honesty…What does sex mean now? What does adultery mean now? It's all about honesty…To have one religion make all of the rules for every other religion makes no sense."
And McPhadden, ever the moderator, pointed out that "every major religion condemns it." The Nightline host received an ovation from the audience. And it hit me–the separation of church and state was not governing the intersection of faith, media, and culture. A television news host was receiving applause from an evangelical audience while an adulteress and a guy who promotes people's adulterous acts sat on a church's stage. Ah, this was good TV, and there's more to come.
For "Remember to Keep the Sabbath Holy," correspondent Vicki Mabrey profiles Chick Fil-A and its CEO, Dan Cathy, whose company is closed on the Sabbath. In "There is Only One God," Nightline correspondent John Donvan travels to Egypt and Israel in search of the real story of the commandments and their creation. And there's more after that. I hope it stimulates your faith in a new way. And mine, too.
More Features:
• Watch a Clip from "Are We Born to Cheat?"
• Quiz: Are You Lustful?
• Complete Coverage of 'Ten Commandments'