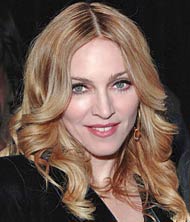 Like any mom, Madonna wants to share her life's opportunities, including world travel, with her children. But – perhaps unlike most moms – Madonna's upcoming itinerary includes a stop at the site of one of the most infamous Nazi concentration camps: Poland's Auschwitz.
We'll say it again: Madonna wants to take her children to see Auschwitz.
Apparently, after some discussions with her Kabbalah guru Rabbi Yehuda Berg, Madonna has decided that she wants her children to accompany her on a trip to see Auschwitz. This will be one of her tourist stops after her Poland concert, said the British Daily Mirror, quoted in the Bay Area's J. Weekly.
"It won't be an easy trip but it is an ultimate life affirming experience, and one Madonna – because of her strong Kaballah [sic] beliefs – does not want to ignore," a source close to the singer told the British daily. "She wants her children to appreciate how lucky they are and to learn about mistakes made in the past."
Madonna also plans to take her children to the Western Wall in Jerusalem during her September concert tour in Israel.
Which children will Madonna be taking? The report is unclear, but bets are on the older two: Lourdes (age almost 13) and Rocco (age 9 this week). Madonna's two younger children, both adopted, are probably too young. But then again, one could argue that even 13 (let alone 9) is too young to grasp what went on during World War Two in Auschwitz.

The blogger's role is generally to snark about the collision between pop culture and historical tragedy, perhaps with a question like "what do divas wear to death camps?" But in this case, I thought perhaps some more serious questions were more relevant.
What kind of preparation will Madonna be giving her children? What kind of historical background will she provide them with in advance of their trip, both to Poland and to Israel? And will she write about the experience in an Israeli newspaper?