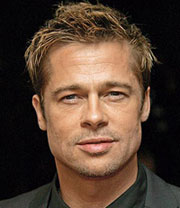 Brad Pitt recently gave an interesting interview to the German magazine Bild in which he opens up about his spiritual life–or lack thereof.

BILD:
Do you believe in God?
Brad Pitt
(smiling): "No, no, no!"
BILD:
Is your soul spiritual?
Brad Pitt:
"No, no, no! I'm probably 20 per cent atheist and 80 per cent agnostic. I don't think anyone really knows. You'll either find out or not when you get there, until then there's no point thinking about it.
Earlier this year Pitt also opened up about religion when he
spoke to Rolling Stone
about how he felt "stifled" growing up in a religious community (he was raised Southern Baptist).
"It was too much of what you shouldn't be doing instead of what you could be doing. I get enraged when people start telling other people how to live their lives. It drives me mental."