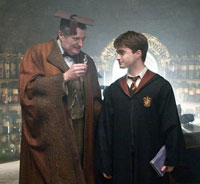 "Expecto iPhonum!"
If you're like me, you've spent the last several years pointing at pens and chanting "wingardium leviosa," in fruitless attempts to get your writing implements to float in the air. (What, that's just me?) But now a new iPhone app brings you a chance to practice your spells and battle other wizards for supremacy (floating pencils not guaranteed).
The app, Magic Wars, is free and has been averaging about 2000 downloads a day; by shaking your iPhone, you show your wizardly prowess, and the app assigns you both a wand and a house that you'd live in at wizarding school. Then you can start studying spells and proposing duels with other nearby iPhone users who have installed the app.

It sounds like fun and games, and of course, it's just another role play game, far less violent than many of its comrades in the gaming world. But actually incanting spells might transform the already precarious religious perception of the Harry Potter universe. If you're saying a spell, isn't that considered magic, even if you don't expect it to work? And in religions that are so careful to distinguish between worship and popular culture, and that take strong positions against idolatry, this might represent a threat: an unforgivable leap between a fictional universe and a popular trend of incantations. I'm sure we'll see it in the coming weeks, so let's just ask the question:
Does the chanting of fictional incantations constitute idol worship? Discuss.