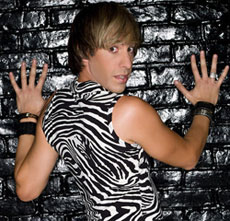 It seems like Sacha Baron Cohen isn't happy unless someone's unhappy with him. He's been the subject of lawsuits in the wake of his last movie, "Borat," and now he's back in the news, having offended many over the scenes in his latest film, "Bruno." But the "Borat" lawsuit was filed by some fratboys–this time, the plaintiff is an "alleged terrorist." (How does a comedian find a terrorist – even an alleged terrorist–to interview? See Baron Cohen's anecdote on Letterman, which is a point of contention for the plaintiff.)

This whole thing is just confounding (all facts
from World News Daily
): Baron Cohen, a Jewish comedic actor, decides to interview a terrorist– while in character as a flamboyantly gay fashion designer. He manages to find Ayman Abu Aita, who somehow agrees to be interviewed in the film– Aita says that Baron Cohen "said he is a German actor making documentaries watched by young people. … He wanted to make a story to mobilize the young people to help us (Palestinians). … I didn't have any impression he would use my interview in a bad way."
In the film, Baron Cohen identifies Aita as a "terrorist group leader," and as Bruno, proceeds to try to provoke him into getting the Al Aqsa Martyrs Brigades to kidnap him as a way to help him achieve fame. Only now that the movie's come out, Aita learned that "the film depicts a homosexual character and contains scenes including full frontal male nudity and graphic homosexual fetish sex."

"Bruno"' which (in case any of us need reminding) features the eponymous gay Austrian fashion designer character who is aiming to be the "biggest Austrian superstar since Hitler, "apparently involves envelope-pushing crassness, nudity and shocking situations at a level that makes "Borat" look tame.
Is Aita a terrorist? According to the WND article:
Aita is a representative of Palestinian Authority President Mahmoud Abbas' Fatah party to the West Bank town of Beit Sahor, which is a satellite of Bethlehem. Aita also is a board member of the Holy Land Trust, a nongovernmental organization promoting Palestinian rights and commitment to nonviolence.
He did serve three years in the Al Aqsa Martyrs Brigades, and then did two years in Israeli prison: on accusations he was involved in shootings against Israeli soldiers in Bethlehem." However, according to Israeli security sources speaking to WND, Aita, while a member of the Brigades, "once worked with Jewish state officials to return two Israeli reserve soldiers who had gotten lost in Bethlehem."
Jihad Jaara, the infamous exiled chief of the Brigades in Bethlehem, called Cohen "not funny" and said his film was "stupid."
"I'd like to tell Cohen if you like to be funny you are not. You showed the world how stupid is this film," Jaara told WND. "We don't need for him to show us to the world in a homosexual film. That made us very angry at him."
And you wouldn't like them when they're angry.
Still, points to everyone for not bringing Baron Cohen's religious affiliation into the discussion, and to Aita for trying to settle in court rather than through more violent means (although admittedly, I haven't met his legal team).