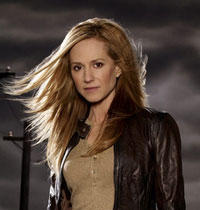 TNT has certainly been successful at creating summer series centered around strong female characters, whether it's my favorite "The Closer," "Raising the Bar" or it's big hit, "Saving Grace." I felt like the first two seasons of TNT's police drama "Saving Grace" were just a little too in your face, but in the third season opener, tough as nails police detective Grace Hanadarko ( Holly Hunter) has mellowed ever so slightly while still fearlessly pursuing justice. Although Grace is still getting into trouble for her crazy after hours antics, gone are the days of flashing the neighbor from her bathroom window, elaborate sequences of Grace fighting with her guardian Earl against some ethereal backdrop, and some of the other gimmicks that made the show a little too over the top for my taste.

In season three, which premieres Tuesday at 10 p.m., Grace no longer fights the fact that the grizzled Earl is a part of her daily life, and in fact, looks at him as more of a beloved silent partner as she solves crime and debates various moral dilemmas in her own life. The two work together on the first crime of the season, which involves a terrorism group and the loss of one of Oklahoma's finest police officers. The twist is that Grace stumbles into all of this as she tries to help a woman who also has Earl for a guardian angel. If God is involved, then nothing can go wrong, right? Well, maybe not.

One theme that has run throughout the entire series, and has continued through the storylines in season three is the idea of free choice. Grace continues to look for the angle that will allow her to bargain with God to get what she wants while Earl continues to teach Grace that God is about free choice, otherwise He wouldn't be God. In this way, "Saving Grace" truly is bold dramatic programming. It's a timeless question that continues to receive a refreshing twist as in the second episode of the season when Oscar winner F. Murray Abraham makes a guest appearance as an angel who is jealous of Earl's relationship with Grace.
These plot points don't serve as gimmicks, but as genuine character growth as viewers track Grace's spiritual journey. I think I am going to be one of those viewers who returns this season to discover exactly where that journey will lead her.