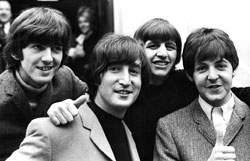 To say I have spring fever right now is an understatement. I still have snow outside my window but no, I cannot see Russia from my house. Spring still seems a long way away to me even though it may have already arrived in some parts of the country. So, by way of trying to urge the blooming of anything green along in my neck of the woods, I have compiled a list of songs that seems to promise warmer days and the start of a new season. If nothing else, I am hoping these songs will lift my spirits, even if they can't melt snow.

What songs lift your spirits and make you want to celebrate the hope of all things new that spring represents? Be sure to leave your comments below.
"Kokomo" by The Beach Boys
Sure, I'm not going anywhere over spring break but still this is one of the original silly fun in the sun songs. But then again, probably any Beach Boys song would do.
"California Dreamin'" by The Mamas and the Papas
Yes, a song about earthquakes, fire, smog, and gridlock would be a more realistic picture of life in California, but this song sure makes it
seem
like paradise.
"Here Comes the Sun" by The Beatles
An anthem to conjure up warm weather anywhere, any time.

"Oh Yeah" by Yellow
Because it reminds me of "Ferris Bueller's Day Off," which is a great movie to watch if you have a bad case of spring fever.
"Spring Can Hang You Up The Most" by Bette Midler
Yeah, this is not exactly a happy song, but more of a depressing torch song that Bette Midler does best and you know, spring isn't always flowers and kittens.

"Spring" by Vivaldi
Even if you don't like classical music, most people have heard Vivaldi's Four Seasons –even if they don't know it. It is some of the more commercially successful classical music out there ( it's been used in movie soundtracks and in Tv commercials) and "Spring" is the most uplifting of the four compositions.
"Shake your Bon Bon" by Ricky Martin
After a winter of being a couch potato, I need to shed the pounds and shake my bon bon if I ever want to go to the beach this summer. Martin's catchy pop tunes make the treadmill bearable.
"Sunny Days " by Jars of Clay
It's not one of Jars of Clays' deeper songs but it is kicky and fun.
"Beautiful Day" by U2
Ditto here for U2. It's not as reflective or philosophical as many of their songs but it still reminds us to appreciate the creation around us.
"59th Street Bridge Song (Feeling Groovy)" by Simon & Garfunkel
If this classic song doesn't lift your spirits and make you think of the carefree days of spring, nothing will.