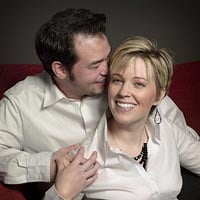 Just last week I was bemoaning the fact that shows featuring abnormally large families, at least by today's standards, such as "18 Kids and Counting" and "Jon & Kate Plus Eight" are sending irresponsible signals in an era striving for sustainability. I hoped that Discovery Communications, owner of both TLC and Planet Green, would formulate some kind of crossover event between the channels to make not only the Gosselin and Duggar families more eco-conscious, but also to educate the huge audiences that watch these shows.

From my lips to Discovery's ears, as the saying goes.
Last night,
Jon and Kate went green
with the help of "Renovation Nation" host Steve Thomas, just in time for Earth Day. In between installing solar panels for electricity, solar thermal panels to heat the gallons of hot water they use for laundry and bathing, and LCD lighting to conserve energy, Steve and crew elaborated on the natural resources needed to maintain a family the size of the Gosselins, and how to reduce their carbon footprint.
In fact, the advice applied to families of any size or shape, and the episode was full of wonderful hints and tips, but Kate's grudging attitude toward the project really diminished the effectiveness of the show. Kate states very firmly at the beginning of the show that she's "all about the bottom line" and if this project will help them save money, she's all for it. But she hates "dishevelment." And she means it, telling Thomas at one point that she'd rather have a root canal than any renovation done to her home.
At times, the jovial Thomas doesn't seem to know how to respond to Kate's cynicism and several times gently chides, "That's angry talk." But in the end, Kate's passive appreciation comes through in the form of baked goods for the crew.

I'm glad that Discovery Communications decided to do this show, but I just wish that Kate had been more excited about it. So she has some emotional baggage from her father never completing home repair projects, but try to show a little enthusiasm about helping the environment so that those of us at home might be inspired to go green like the Gosselins.
"Jon & Kate Plus 8 Go Green!" airs tonight at 10:00 p.m. ET on TLC.