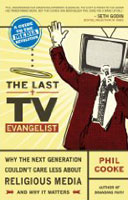 There's a new book out that may provide some of the most compelling reading in years for those who are interesting in spirituality, pop culture, and faith-based television.
"The Last TV Evangelist" is authored by Phil Cooke, a veteran producer who has appeared on MSNBC, CNBC, CNN, and the Fox News Network. His work has been profiled in the New York Times, Los Angeles Times, and Wall Street Journal.

His 2008 book, "Branding Faith," has influenced the way many non-profit and religious organizations use the media to tell their story. He's lectured at Yale and UCLA. His Christian media influence has been extensive and he raises some compelling points in his book.
Mr. Cooke claims that "religious radio and TV has built massive networks, launched global organizations, and generated billions of dollars in donations," and that "it has allowed Christianity to reach more people in this century alone than the rest of history combined.
But he also claims that "sex and money scandals, political controversies, and the prosperity gospel have taken their toll on the perception of Christians in the culture."
I don't think those are revolutionary points, but I do think the prospect of notifying the mainstream media–and the public–of this obvious fact could be a breakthrough in terms of many peoples' perception of God as translated through media outlets.

After more than three decades of experience in both faith-based and secular media, Mr. Cooke is now exploring what it will take to connect to a new generation "before the entire industry experiences total collapse." For too long, the media has been able to dismiss a generation of Christians under the umbrella of a few figureheads like Pat Robertson, Jim Bakker, Paul Crouch and others. But that kind of simpletonism is now soon to be behind us and "The Last TV Evangelist" will–in my opinion–increase the speed of the culture's recognition.
No more TV Evangelists? How wonderful! I love the Christian message, but I've never loved how its been portrayed by those who speak for The One I believe in but with a language and style that I've never recognized.
If you're interested finding out more about the book or viewing a video stream visit ConversantLife.