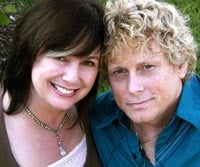 Christian actor Willie Aames is apparently in such financial trouble that he did what few celebrities have done before him–held a garage sale, according to the Kansas City Star.

The newspaper reported that Aames held the sale at his Olathe, Kansas home yesterday and that there were a variety of items up for grabs:
"There was a plush leather couch and chair and a giant television. Also, a lion head mounted on an oak pedestal, along with stuffed wild boars and other wildlife he hunted. Some other items included crystal and posters of him when he was young."
It's certainly been a rough year for the former star of "Eight is Enough," "Charles in Charge," and "Bibleman." He separated from his wife Maylo (pictured with him above), filed for bankruptcy, and
tried to commit suicide over Thanksgiving.
All of this came in the wake of the release of his book, "Grace Is Enough" which he co-authored with Maylo.
The couple spoke to me
shortly before the book's release and discussed how their Christian faith helped keep their marriage strong as well as helped Willie overcome drug addiction and depression.
In response to a question on how he gets through the low points in life, Aames said:
"Up until recently, many people told me, "Why don't you just hang it up? You had a good ride, and you might as well give up." That's just not something that I do easily. No matter how I might feel about myself or my self-image, there is still a part of me that wants to fight to the end."