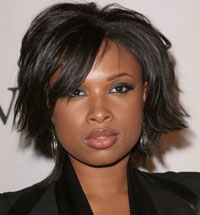 I'm a music lover, and believe it can bring so much inspiration in times of trials and challenges. And music of faith is as wonderful as it is essential.
And so it is that I was disappointed during most of the Grammy Awards this year, as really nice performances weren't enough to overcome the evening's obstacles, aside from one shining star.
Jennifer Hudson set the pace for what could have been a wonderful and spiritual show: "I first would like to thank God who has brought me through," she said in her acceptance speech, after winning a Grammy for Best R&B Album. "I would like to thank my family in heaven and those who are with me today."
How cool is that? Her first album. Self-titled. Successful. A ray of hope in a year in which her mother, brother and nephew were killed!
Then, later, she performed "You Pulled Me Through," looking directly into the camera with tears about to unleash in gushes, while proclaiming with transparency and vulnerability "When I was drowning, when I was so confused, you, you pulled me through."

After that, though, the night was a lesson in how the best of human efforts can't replace the occasions when space for faith should be extended and captured. From the beginning, there was a pall over the evening that those in the room were well aware of. Couple Chris Brown and Rihanna had a fight the night of the awards (Brown was arrested) and their absence–as well as two performances that had to be scrapped, couldn't be ignored. Thus the unlikely pairing of Justin Timberlake and the Rev. Al Green was created to fill in for what was to have been Rihanna's performance as the second act of the evening. Brown's later performance of "Forever" was also abandoned.
The troubles of Rihanna and Mr. Brown weren't mentioned. There were no "prayers going out to them" or "support in their difficult time" or "we look forward to having you back soon." What was supposed to be their wonderful night of performing and being nominated in several categories lost out to the pressures of the industry and their youth which resulted in a tragic fight that will now become a legal case and tabloid fodder. Instead of ignoring it, this was Grammy's chance to shine. It missed.

So we were left with really good human efforts and some very decent (and creative) tandems. Producers paired Kanye West with Estelle, Taylor Swift with Miley Cyrus, and Jay-Z with Coldplay. I particularly liked Radiohead's pairing with the U.S.C. marching band–yes a marching band–for a performance of "15 Step." And the duet theme actually seemed appropriate, what with the unlikely pairing of Allison Kraus and Led Zeppelin's Robert Plant winning the night's biggest award.(That said, I didn't get the pairing of the Jonas Brothers with Stevie Wonder at all!)
In the end, I could also say that I liked U2's new song and I wish that Kid Rock's lyrics about Jesus and Satan would be taken seriously. But it was Hudson who brought the faith-based inspiration to an evening that needed–and offered an opportunity–for so much more.
So to Chris and Rihanna, my prayers are for you today, and I hope you both have an opportunity to grow and rebound from the difficult events of a few nights ago. Perhaps next year's Grammy's could the celebration that you missed out on this year.