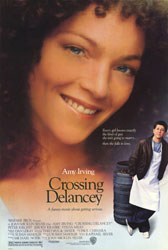 I'm a little late in making a Valentine's Day romantic comedy movie pick, but then again, who say s that some of us don't need an even bigger reminder that true love is possible after Valentine's Day is over, huh? So I am picking a movie that, in spite of its very dated 80s look and feel, is still a sentimental favorite of mine when it comes to old-fashioned movies about courting. "Crossing Delancey" is like a PG version of "Sex and the City" mixed with a little bit of John Hughes-style angst and a funky soundtrack by The Roches. Oh, and the best part of all is that the movie has the best depiction of a "bubbie"– a Jewish grandmother– on a big screen, ever.

Amy Irving (whatever happened to her by the way?) plays the lovely Izzy (Isabelle), a wannabe sophisticated Upper West Sider in Manhattan who has blue-collar Jewish roots. She works at an upscale bookstore which hosts readings with best-selling authors and she loves her brushes with the cultural elite. She has good friends, a rent-controlled apartment, and a crush on an author who might have a crush on her in return, but none of this is enough to please Izzy's bubbie, who believes it is time to marry her off.
When her grandmother hires the most obnoxious matchmaker in history, Izzy pretends to play along with the matchmaking until the matchmaker brings her Sam, a–gasp!–pickle salesmen. Izzy can't imagine herself with someone so prosaic, yet she and Sam are an oddly good fit. Their attempts at courtship have some ups and downs, as well as a few laughs, as they attempt to blend their worlds.
Of course, there's never really any doubt they're a match. After all, Bubbie does know best.