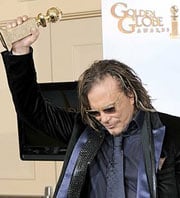 Fresh thoughts while my bride (of 23 years) and I watched the 65th Golden Globes, live from the same Beverly Hilton ballroom as our Senior Prom…
The simple beauty of an awards show that sits friends with each other around tables, with the winners going straight back to their seats (rather than through a backstage gauntlet a la the Oscars); this show is much closer to what the original Academy Awards were like, just longer….
Kate Winslet haha'd her way through a long speech which her peers seemed to tolerate but not appreciate…
The dark hair and long beard of "Jeremiah Johnson" Sting was a strinkingly different look…
The great movie clips shown with the "Best song" nominees…
The year of Bruce Springsteen continued–he won for "The Wrestler", will be appearing at the Super Bowl for the first time, and had one of the night's best lines: "The only time I'll ever be in any competition with Clint Eastwood; felt pretty good, too!" (Eastwood also had a nominated song for "Gran Torino.)

The producers having to flash the lights live to get the chatty guests to be quiet because, uh, there was actually an awards show going on!…
Had Tom Wilkerson enjoyed a few too many…even though his was only the third award of the night?…
Wow, some of the winners (Laura Dern, Wilkerson) had to walk a looooong way–didn't anyone think they could win?…
My kids reminded me that presenter Blake Lively would have been a classmate had we not moved; she did a nice job for being young and a rookie…
Health Ledger won for Best Supporting Actor…and the most inspirational moment of the night should have come next. People stood for him, yes; the movie's director gave a nice tribute. But gosh, it sure would have been great to have a moment of prayer, or reflection, or at least silence. If it's not appropriate at a public gathering and honoring of peers such as this, then what a shame for Hollywood…
Wow, turns out you CAN have an awards show without a host! Goes quicker, too…
Really cool having TV and movie stars together; makes for a really packed gathering of familiar faces….

The presenters' light joking about their pre-show drinking and cocaine was completely inappropriate for a family television show…
A.R. Ruhman, Best Original Score winner for "Slumdog Millionaire," and in his Indian dialect with a very simple start to his speech: "Thanks to the Almighty God for bringing me here"…
Best line from a thank you speech: "When I was a kid I had all of the (Hollywood) Foreign Press action figures"…
One could almost fill a three-hour show with just Steven Spielberg movie clips and quotes from his peers. His films have always been inspiring and meaningful…
Colin Farrell was eloquent speaking about the "redemptive qualities" of "En Bruzes," saying "ignorance is nemesis," and "what we do is nothing to do with business" but "a playground for imagination and the exploration of thought and feeling." Oh that we could all feel that way about movies…
Kate Winslet bordered on the overdramatic although she was just authentically weakened and overwhelmed by her second victory.
I wonder what's worse–being nominated and losing, or enduring the camera close-ups while you watch the winner's speech?…
It's always a mixed bag at the end: the biggest awards should bring the biggest inspiration and most sublime speeches, but the hour is late, the crowd is tired and the producers are saying "wrap it up" as soon as the winner takes the stage…
But there was obvious sentiment–almost redemptive in its strength and unity–in the applause and cheers for "The Wrestler's" Mickey Rourke, for whom it's been a long road back…
From a media and industry point of view, the "Globes" are considered a hint of what may be coming on Oscar night. But for the stars in attendance, it's a really great reunion, a great party, and a great chance to see a few of their own be honored.