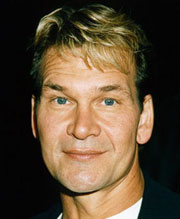 Early last year reports surfaced that Patrick Swayze may only have weeks to live. Now almost a year later, the actor opened up to Barbara Walters last night in a TV interview that was, at least for Swayze fans, riveting. He didn't flinch from questions about why he continues to smoke even though he has cancer, discussed the tabloids unkind predictions about his demise, and even talks about faith in the afterlife. Even the most cynical celeb watcher had to see that this interview was more than just a promo for Swayze's new cable series "The Beast," but rather a serious reflection on life and death.

While Swayze admits to feeling anger towards tabloid reporters who have said he is on his deathbed when he has already beaten the odds for living with this disease, for most of the interview Swayze was upbeat and passionate. Swayze described in detail his painful regime of treatment, but never asks for pity. He also made it clear that he realizes that despite good results from the treatment, perhaps another two years of life is likely and five years is "wishful thinking."
What was most inspiring to me about Swayze's comments last night was not what he had to say about cancer– though that was moving. I appreciated the way the interview celebrated his marriage of over thirty years to wife Lisa and the way he eloquently described his own faith and thoughts on life after death. Swayze admitted the disease is testing his faith in a higher power but that he still believes in angels and miracles and the power of prayer. But the most moving words of wisdom Swayze uttered last night might be when he told Walters, "Hope is a fragile thing in anyone's life." It's so true, and yet watching him bravely fight this cancer, I am sure he is giving many others the very hope he refers to.