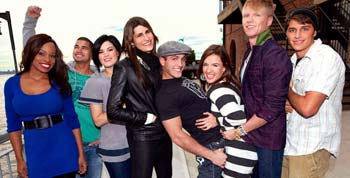 When I heard that there would be a "cool" Mormon house on the newest incarnation of MTV's "The Real World" — "The Real World: Brooklyn"– I thought that the network theat brought us so many reality show cliches had finally run out of tropes for the granddaddy of all reality shows.
After twenty seasons, I expect them to cast one or more hot girl with self-esteem/eating disorder issues, the good-looking guy with rage problems, the gay/lesbian/bisexual, the innocent/virgin and the housemate who can't (or won't) hold his or her liquor. But casting another Latter-Day Saint, Chet, after "New Orlean's" memorable Julie seemed like they had run out of ideas. But I decided to give Chet and the premiere a go even though I stopped watching the show around the Chicago season.

I was somewhat pleasantly surprised: Not only are there eight–not the usual seven–housemates, but MTV has attempted some commendable, multi-dimensional casting. Sure, Chet is an interesting character. A devout Mormon, he is into fashion, pastel colors, being metrosexual and denying to his castmates that he is gay. (He says he's straight and has absolutely no gaydar whatsoever, so viewers will just have to take his word for it–for now.) And while there is the muscle-bound guy and the ex-pageant queen, there is also Ryan, a 23-year-old who served for a year in Iraq, and Katelynn, a 24-year-old who recently underwent gender reassignment surgery.
MTV has done a wonderful thing in casting Ryan, bringing visibility to young veterans everywhere and opening the eyes of the sometimes conflict-forgetting audience to issues such as the experience of veterans, and the ongoing war's human cost. Ryan may end up being the housemate who drinks too much, as was foreshadowed by behavior at a concert, but his story is extremely compelling. As is Katelynn's: The first transgendered person on "The Real World," Katelynn didn't immediately tell her roommates about her surgery and several of them began to rampantly speculate. It will be interesting to see if she addresses them in tonight's episode.

Then there is JD, the gay, 22-year-old Miami native who survived an abusive father to become one of the world's youngest dolphin trainers. And, Sarah, the punk glam gal from San Francisco, who is training to become an art therapist for survivors of sexual abuse, having been a victim herself. And even the housemates with less dramatic backstories are likable and interesting: Scott with his award-winning abs and Devyn with her flirtatiousness. (But remember: "It is easier to get into Heaven than into Devyn.")
This may, of course, all change, and the show may devolve into the typical "Real World" routine of alcohol-fueled fisticuffs and fornicating. But, for now, I'll be returning to the "Real World."
The "Real World: Brooklyn" airs Wednesday nights at 10:00 p.m. ET on MTV.