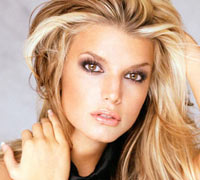 Although many people will probably laugh off reports that actress/singer Jessica Simpson is interested in returning to college to study theology, as reported by Marie Clair via The New York Post's Page Six, religion has always been a part of the blonde bombshell's roots.

In addition to being manager to Jessica and sister Ashlee,
their father Joe is a Baptist minister.
Their mother is a former Sunday school teacher. And,
Jessica got her start in gospel music
–she was signed to a Christian label as a teen and recorded an album, but the label went under before it was released. Jessica then released it herself. She was eventually signed to Columbia Records as a mainstream artist (she was pitched as a Christian recording artist, but the label decided not to go that route).
Personally, I think it's great that Jessica is "contemplating" taking a course in religion. What I find a bit sketchy, however, is that she's been influenced by the popular fiction novel, "
The Da Vinci Code."
"I remember whenever the book The Da Vinci Code came out, the Discovery Channel did this three-night piece on it that I Tivoed and then watched eight times," Jessica told Marie Claire.
You can check out the full interview with Jessica Simpson in the magazine's January issue.