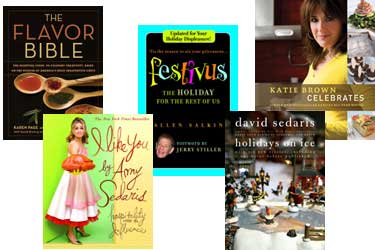 Sure, Thanksgiving is over, but the holiday entertaining season is just beginning. Break out the Yule logs, whip up a bowl of eggnog, bake some gingerbread cookies, and hold the fruit cake.
Have trouble getting in touch with your inner Martha Stewart? Don't worry. Hachette Book Group has provided Beliefnet with 5 sets of books that will help you prepare for a no-fuss, easy month of welcoming guests to your home for delicious nibbles and humorous conversation. Each book set will include 5 books:
1- The Flavor Bible, by Karen Page, Andrew Dornenburg
2- Katie Brown Celebrates, by Katie Brown
3- I Like You, by Amy Sedaris
4- Festivus, by Allen Salkin
5- Holidays on Ice, by David Sedaris
Want a set of these books?
Post a comment below by Wednesday, December 10, answering the question: What's the one holiday memory you will never forget?
Make sure you include your email address in the designated area (it won't be made public). The 5 best responses–based on the judgment of the Idol Chatter editors–will each win a set of the books.
Please read the legal stuff before entering.
Also, be sure to check out our Holidays page.