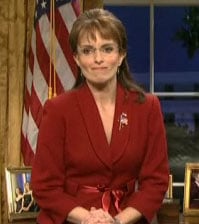 America Online recently reported its annual list of Top Ten Quotes of the Year, as named by Fred R. Shapiro. I found the list to be somewhat entertaining, partially nostalgic but, most of all, quite less than inspiring.
Tops on the list: "I can see Russia from my house!" Such were the words of…guess who? Nope, it wasn't Alaska Governor Sarah Palin, but a whole lot of people sure think she said it (or would say it!) Actually it was from comedian Tina Fey who was impersonating the Vice-Presidential candidate on "Saturday Night Live," back in September.
Number two on the list went to Palin herself: "All of them, any of them that have been in front of me over all these years" as spoken to CBS Newswoman Katie Couric when asked which magazines or newspapers she read.

Third on the list was also political in nature ("We have sort of become a nation of whiners") from Former Senator Phil Gramm, an economic adviser to Sen. John McCain, in The Washington Times, July 10, as were most of the quotes.
In fact, only Paris Hilton ("I'll see you at the debates, @#&%^$!") stood among the remaining Top Ten (actually about thirteen including ties) as someone who wasn't a politician or pundit by nature.
Which leads me to my main concern: where are the quotes of inspiration?!?! Where are those words which, when uttered, bring out the highest and best in ourselves. Where are the words and phrases that re-connect us to our faith, cause us to higher living and challenges us to never settle? Where are the quotes which elevate our human condition?
If you heard any this year, I'd love to hear 'em. In the meantime, here's a few more from Shapiro's list. Shapiro is the author of the "Yale Book of Quotations,) which boasts about 13,000 entries, and he's working on another one. He is an associate librarian and lecturer in legal research at the Yale Law School:

4. "It's not based on any particular data point, we just wanted to choose a really large number."
— Treasury Department spokeswoman explaining how the $700 billion number was chosen for the initial bailout, quoted on Forbes.com, Sept. 23
5. "The fundamentals of America's economy are strong."
— Sen. John McCain, in an interview with Bloomberg TV, April 17
6. "Decisions by the Secretary pursuant to the authority of this Act are non-reviewable and committed to agency discretion, and may not be reviewed by any court of law or any administrative agency."
— The Treasury Department's proposed Emergency Economic Stabilization Act, September
7. "Maybe 100."
— Sen. John McCain, discussing in a town hall meeting in Derry, N.H., how many years U.S. troops could remain in Iraq, Jan. 3
Check out the rest
on AOL.com