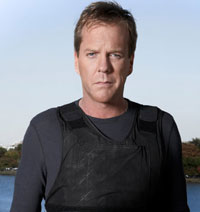 Imagine the expectations when one of the most popular–and one of the most inspiring–television shows returns to the air for the first time in more than a year and a half. I mean, that's a lot of time for creativity and editing. Expectations were high. Interest peaked. Heck, even Idol Chatter's Kris Rasmussen returned to the "24" blogfest! And last night was the night, as the popular show returned to the air in the two-hour "24: Redemption."
I wonder how many viewers tuned out of "24's" first scene, which may have been the most disturbing in its history, as African children were being trained by their soldier guardians to hate those not among them. The scene culminated in one of the children being challenged to use a machete to kill an African-American man in front of the cheering crowd of other children.

This wasn't the kind of thing "24" viewers are used to. No Americana. Not our typical view of patriotism. No simple East-vs.-West good-vs.-evil kind to guide us. No male-female politics or American power struggles.
Just brutality. And reality. Perhaps more than we're used to from even this, the most realistic of shows. But it was worth hanging in for. If you missed it, it shows up on iTunes on Tuesday.
After the brutal beginning came the gentle appearance of a kind Jack Bauer, several months into helping an old friend run his missionary school. A federal subpoena catches up to him and the guerilla recruiters catch up to the boys at the school.
By the time it was over, the theme of Jack Bauer as the Savior figure had re-emerged, and Jack was back. Once again, Jack saved the crowd but lost the one he loved. Once again, Jack had to surrender himself to the authorities to save the larger crowd. And once again those who seemed evil seemed to have leverage over him.
In the end, "24: Redemption" played like a Readers Digest story, not a master novel. Yes, it was compelling and it made a social case out of the treatment of African children (more at Fox.com). But it didn't have the usual depth of the series. It was only two hours. It needed "24."
The new season starts Jan. 11. I'll have my TiVo set. "24" has given us the kind of inspiration that asks questions that go beyond simple ethics and invites us all to revisit the covenants we're bound by. I look forward to the upcoming season. It's a show that makes people of faith think.