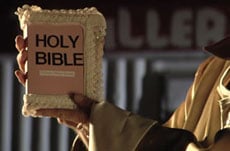 Okay, I can hear the cards and letters (or posts) comin,' because Idol Chatter is usually a generous and congenial part of the Beliefnet blog network, and we usually take a pretty open position in embracing our culture and the arts relative to our faith journeys.

But every once in a while, art doesn't transcend truth as much as it distorts it, and that's where I draw the line. Hence my opposition to the upcoming "Princess Diana Bible."
Now, when you hear that term, what do you think of? A bible that the princess gathered scholars together to discern and produce, prior to her death, a la Kings James of 1611? Or perhaps a bible which features commentary focused on the needs of the poor and the oppressed, which she spent the latter years of her life focusing on? Or perhaps even a Bible written in the current Queen's English?
Nope, the upcoming "Princess Diana Bible" will be a pro-gay translation bible from authors who claim "there is solid evidence that Adam and Eve were both women" and whose current movie has been banned by at least one movie theater chain.

The name of the group says it all: "Revision Studios" will be the publisher of the new book that will say that "gay is better than straight" according to a press release drawing attention to Director Max Mitchell, the writer and producer of "Horror in the Wind." There will also be a new part mini-series: "The Gay Old Testament" and "The Gay New Testament."

"There are many different versions of the Bible," Mitchell is quoted as saying, "I don't see why we can't have one."
There. That is the point at which art that opens a window to faith becomes art that's destructive to faith. The whole idea of "The Holy Bible" is that "all scripture is inspired by God and profitable…" This book is inspired by a political agenda and one person's desire to contort not only the text but the very context of it to suit his own perspective. That, you may say, is what commentators do–and perhaps even translators–but this guy is making himself an "author," which makes it a book, not a Bible.
For his part, Mitchell "claims the gay Bible is divinely inspired," according to his company's press release. Further: "In Biblical times homosexual relationships were so commonplace that no one gave it a second thought. It was heterosexuality that was considered sinful." This is the kind of stuff that can only come from a "Revision" studios, given the Bible's teaching on marriage (see
Paul's words to the educated Ephesians
.)
The problem here is that our culture is growing more and more confused about the difference between text and context, between story and standard, between art and history. If this work gains any momentum at all, perhaps one strong result will be that more of us take care to notice and detect the difference between art and neo-truth. One sheds light on life. The other creates a new story which–whether light or dark–certainly isn't drawn from the original.