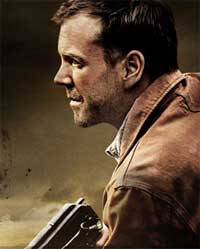 While I was once a fan of the action drama "24" the first couple of seasons, I got tired of the show's premise with its increasingly convoluted storylines. Don't worry–fellow Idol Chatter blogger Doug Howe has continued to watch—and blog about –the show faithfully. However, I will be tuning in on Sunday for the two-part movie/season premiere entitled "Redemption." I am hopeful that the show has returned to top form for three reasons: Cherry Jones, Robert Carlyle, and Jon Voight.
Tony winner Cherry Jones ("Doubt") has come on board as the first female president, indie film favorite Robert Carlyle ("Trainspotting") plays Jack's former mentor and a leader of a boys school somewhere in remote Africa , and Jon Voight (you know, Angelina's dad) plays a sleazy politico. I mean, it's like the trifecta of casting coups, and I find it hard to believe that something entertaining and intriguing won't come out of this delicious acting mix.
I suppose the biggest reason of all for checking back in with the series is that after a long hiatus– the show has been off the air for 18 months– absence has finally made my heart grow fonder for Jack Bauer and the moral catharsis his tattered, morally righteous and, yet, morally tenuous life provides.