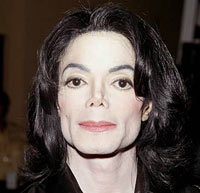 Don't call him the King of Pop anymore, because Michael Jackson has converted to Islam and wants to be called Mikaeel.
The 50-year-old pop star took his shahada (oath of faith) in Los Angeles on Friday, as reported by news sites and blogs. Michael, oops, I mean Mikaeel, has gone from the highest of the highs with a thriving music career to the lowest of the lows when he faced child molestation charges.

I got nothing against a brother who has found faith and is making a sincere effort to change. Yusuf Islam, formerly Cat Stevens, made a beautiful transition to Islam years back and
recently returned to music
when he released his album
"Cup of Tea."
I hope being Muslim is good for Mikaeel and keeps him grounded.
Check out what Aziz Poonawalla, Beliefnet's Muslim blogger,
has to say about Mikaeel Jackson's conversion
. (He writes what has to be my favorite line about this story: "I will note that Islam is big enough to contain me and Jackson within itself. "