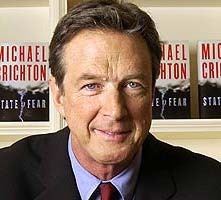 According to a recent CNN report, author Michael Crichton has died in Los Angeles, "unexpectedly, after a courageous and private battle against cancer." He was 66.
To some book-lovers, Michael Crichton was known as the six-foot, nine-inch tall author of "The Andromeda Strain," written while he was still in medical school. To most, he's known for introducing us to chaos theory and exploiting our fascination with and fear of dinosaurs in "Jurassic Park." A trained physician, he was one of the creators of "ER," the NBC show that premiered in 1994 and is now in its final season.

According to CNN:
Crichton also invited controversy with some of his scientific views. He was an avowed skeptic of global climate change, giving lectures warning against "consensus science." He later took on global warming and the theories surrounding it in his 2004 novel "State of Fear," which attracted attacks in its own right from scientists including NASA's James Hansen.
The tragedy in losing a voice like this so relatively young seems magnified by the fact that he was trained in science, and struggling with cancer that all his training and studying couldn't cure. But his early work was substantial, and succeded in altering the shape of popular culture–part of a scientific, pop cultural, and literary legacy. His fans will miss him.