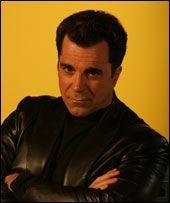 My friends and I have been having fun lately emailing a list back and forth of what are the best of the worst Christian songs we grew up listening to. You know, those songs that are enjoyable, with lyrics you can't get out of your head, but at the same time you'd be slightly embarrassed if anyone came across them on your iPod.

So I condensed our lists and decided to share the final version of our list of songs we hate to love. It's not meant to be a mean-spirited list, just a fun way to look back at how much Christian music has–thankfully–changed.
Don't be afraid to add your best of the worst in the comments box below!
"Cartoon Song" by Chris Rice:
It's fun, it's catchy and a concert favorite. But let's face it, Fred Flintstone singing hallelujah as "yabba dabba do ya" is about as theologically light as a wet crepe paper.
"Big House" by Audio Adrenaline:
It's a song that has been sung by teenagers in youth groups all across America– over and over and over again–usually in a crowded, broken-down bus on a mission trip where the chaperones have no means of escape. I am speaking from experience, folks.

"Shine" by Newsboys: Another snappy, happy, clappy tune that is hard to get out of your head but with such lyrical images as making a "vegetarian barbecue a hamster," it's a wonder the song didn't start a PETA protest.

"American Fast Food" by Randy Stonehill:
Way before Morgan Spurlock came up with the idea for "Supersize Me," Stonehill warned us all against the evils of milkshakes and french fries.
"Live Out Loud" by Steven Curtis Chapman:
I am sure it seems horribly inappropriate and insensitive that I would put Chapman on the list, but come on, the song mentions Regis Philbin.
"Word to the Father" by dc Talk:
Let's face it, the entire "Free at Last" recording was pretty cheesy, but this song was one of the worst offenders. The Christian boy band did a pseudo-rap that included chicken noises. Even K-Fed can't say that. Still, it's a great song to work out to.
"Who's in the House?" by Carman:
I know, how can you decide
which
Carman song to put on a list like this, right? But I picked this song because it has also been a youth group staple and I confess I once taught a dance to this song.
"Home Run" by Geoff Moore:
After the song begins and announces that Geoff Moore and the Distance are getting ready for a day of baseball against the "big guy, the Prince of Darkness," the following sports metaphors are used: "Well, it's the wind-up, here comes that ball/You gotta pray and swing/ watch it till, it's goin, goin, it's gone!"
"Fat Baby" by Amy Grant:
Anyone remember when she made the bad choice to sing this song on "The Tonight Show"? You can only imagine what Jay Leno was thinking when Amy sang about how "His spiritual tummy, it can't take too much. One day a week, he gets a spiritual lunch."
"Friends" by Michael W Smith:
I personally would have gone for the Smitty classic "Rocketown" for cheese factor, but "Friends" has been sung at graduations for years now so
my
friends say it get's the nod as one of the all-time best of the worst.