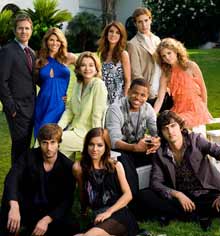 Have New York's Upper East Side rich kids set an impossibly high bar for titillation, or will their West Coast Beverly Hills-dwelling teen counterparts kick their six-packs and bikinis up a notch, making the new "90210" a real contender?
When the Parents' Television council called the teen drama "Gossip Girl" (also airing on the CW) "mind-blowingly inappropriate," they didn't mean it as an endorsement. But the show's promoters latched on to the controversy-implying statement and used it in their advertising because they know that the forbidden holds appeal, especially for the intended teen audience.
In the original "90210," the scene was introduced through the innocent eyes of Minnesota-bred twins Brandon and Brenda Walsh; their gradual acclimation into Beverly Hills was both social success and perhaps a corruption of their Midwestern values. But whatever they encountered as school, they always had their stable, if somewhat square, parents to come home to. What kind of context will the new "90210" provide in terms of family stability?

The Parents Television Council would like to be able to tell its constituents whether the show's okay or not, But the CW has decided to bar advance screenings of the show's premiere episode. So the PTC has warned advertisers not to support the show without a prescreening, reported AdAge:
"No reputable advertiser should even consider sponsoring the show without viewing the content in advance," PTC President Tim Winter said in a statement. "CW's cowardly decision heightens the need for advertisers to be responsible corporate citizens who carefully evaluate their media buys and ensure that the content they subsidize lines up with their corporate ideals."
Adweek added that the PTC's objection to the as-yet unscreened and unaired "90210" stemmed from guilt by network association: said, "If Gossip Girl is any indication of what 90210 will look like, advertisers have plenty of reason to steer clear of the show."

Since the PTC, which previously objected to the rampant sexuality (including threesomes) on "Gossip Girl" is now stating its objection to "90210," the assumption will be that it must be the same level of raunch and controversy as "GG." And I'm certain that the writers feel the pressure to live up to the original "90210" as well as to provide a level of interesting action/plot equivalent to, if not more watercooler-worthy than, "GG'"s.
Unfortunately, no one has given the Idol Chatter team a screener. So to find out the answers to all their questions, both audiences and the PTC are all going to have to wait until September 2, when the reboot of the show airs on the CW.