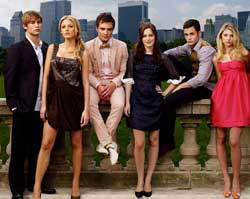 Everyone's favorite teen soap opera/guilty pleasure "Gossip Girl" is back, premiering on the CW September 1. And of course, its back with a, well, um, bang (so to speak).
GG got itself in heaps of trouble last spring as it geared up for its first season finale with an advertising campaign that splashed "OMFG" in huge letters (I'm not translating–if you don't know what this acronym stands for, then ask your daughter) above a variety of sexy pairings between characters–and put them all over conspicuous spaces like Times Square, the walls of public transportation systems, and on the sides of buses, among other places.

Well, the clever GG advertising folks strike again! The fall advertising campaign celebrating the return of GG for season two, also celebrates–quite cattily which is apropos of the show–the negative hype its gotten for being a tad lacking in family values and bereft of any shred of positive content for its tender-aged audience. CNN reports about the show's new promotional ads:
"Here's Serena van der Woodsen (series blonde Blake Lively) with eyes shut dreamily, mouth open, while a friend, his face buried in her tresses, nuzzles her neck. Strongly suggesting the pair are just getting started, the headline, which quotes The Boston Herald, declares: "Every Parent's Nightmare." Other such lovey-dovey moments (on a couch, in the sack or apparently skinny-dipping) are accompanied by headlines like "A Nasty Piece of Work" and "Mind-Blowingly Inappropriate."
You've got to admit: it is pretty clever! The ads, once again, are all over NYC.