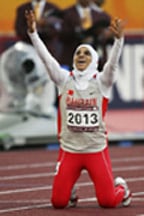 So far, the 2008 Olympics has been all Michael Phelps, Dara Torres, Chinese divers, Liu Xiang bowing out (gasp!), gymnastics, Usain Bolt, Redeem Team, U.S. men's water polo, Kerry Walsh and Misty May-Trainer (this list is getting so long!) and Jamaican sprinters. Very inspirational stuff.
But for me, the excitement kicks into overdrive Tuesday night when Bahrain's Ruqaya Al Ghasara takes the track at the Bird's Nest stadium in the 200 m sprint–in her specially designed, flaming red hijood. What's that?

A sports hijab, natch.
The Beijing Games has featured an unprecedented number of Muslim athletes performing in hijab (or headscarf) and within the technical parameters of Islamic modest dressing. Track & field, taekwondo, fencing, rowing, archery–all these sports feature strong Muslim women athletes fully covered up and in various types of hijab as they contend for medals. The athletes hail from Afghanistan, Egypt, Iran, Bahrain, Yemen, the Gulf Nations of the United Arab Emerites, and Oman.
Al Ghasara, the flag bearer for Bahrain, is the golden girl of the hijabis (an affectionate term Muslims give to women who wear the hijab), as she was first to strike gold on the international circuit, winning at the 2006 West Asian games in Doha, Qatar.
Al Ghasara believes her specially-designed hijood and clothes is the perfect combination of modesty and high performance, saying "I hope that my wearing the hijood sports top will inspire other women to see that modesty or religious beliefs don't have to be a barrier to participating in competitive sports."
As a fellow hijabi, I am excited by what she and the other headscarf-wearing athletes are doing in Bejing. And though I know the verdict is out on whether what they do (competing in fitted, but fully-covered up clothing) truly adheres to the strict definition of Islamic modest dressing, it's just so cool to see them out there, competing with their hijabs.
Want to learn more about the hijab and what modest Muslim dressing is about? Check out this gallery on the hijab. Also, readour FAQ about the hijab.