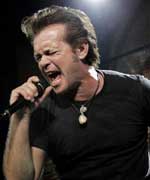 There's still a little bit of summer left, and if you can I encourage you to get out to a John Mellencamp concert, for at least three reasons.
First, you won't believe how many of his songs you'll know, and love, or both. Second, it's pure energy–we never sat down and he never said "Hello, Cincinnati!" He just goes and goes and you'll just dance and dance, until the encore is done and you'll wonder where the night went.

And, third, not since Bruce Springsteen has anyone figured out how to put on an inspirational high energy show amidst very dark and discouraged political rhetoric. I'm not an Obama guy like those who were all around me, but it didn't matter, as Mellencamp found that exact balance of conviction without preachiness, candor without dragging the show into the ground.
And this will be what his career is about in the near future. "I am trying to make the transition from rock star to songwriter in public," he said to
the Associated Press
this week. He went on to say how down he is about our American situation:

"I think we're too far past (the way things were). I think that (Barack) Obama is definitely a hopeful light on the horizon, but will we ever enjoy the place that we once enjoyed? I don't think it's going to happen, simply because everything is changing so rapidly: Technologically it's changing, the way that we do our stock market is crumbling, the two-party system doesn't really work anymore … But you know what (chuckles)? I'm just a (expletive) guy in a rock band."

Hence the balance he's striking. He's using his platform to enlist converts, but with a humility that acknowledges he's basically just a rock singer. Or–as he prefers to say now–a songwriter. "When you write a song called 'R.O.C.K. in the U.S.A.,' that is for the general public to consume," he said. "When you write a song called 'Ain't Gonna Need This Body,' that is for people who are halfway through their lives."
And he lived it out in his concert, foregoing his fan club's namesake song "Cherry Bomb" in favor of fresher stuff that's more current, relevant, and, well, dark. But there were enough classics in there and a freshness in his new stuff (including a great prayer to Jesus) to make it more than worth it. And I think there's more to come.
Mellencamp's new album ("Life, Death, Love and Freedom") is a tad too L.E.F.T. and D.A.R.K. for me, but if I mix in some classics from the iPod, I'll be fine.