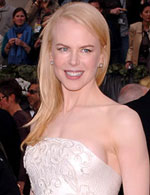 From the Old Testament (Yahweh) to Grimm's Fairytales (Rumpelstiltskin), names have always carried power. And now some in the media are suggesting that the name of Nicole Kidman and Keith Urban's newborn daughter's name is imbued with a similar, power–an anti-Scientology power to be precise.
Naming their daughter Sunday Rose is an intentional slap in the face of Scientology, and would "nark off Tom Cruise," theorizes Heckler Spray. Citing a source who told MSNBC that "Nicole is a Catholic, and Sunday was an important religious day for her until she was involved in Scientology," the webzine/blog's theory has been picked up by other news outlets, including the Huffington Post.

Can I believe that Kidman might still be bitter about the out-of-the-blue divorce proceedings and resultant loss of closeness with her adopted children that some blame on her separation from the Church of Scientology? Sure. And is there a possibility that Kidman wouldn't mind that "her baby's name could be perceived as one last jab [at Scientology]?" Hey, she is only human after all.
But, do I think that she would bring her newborn daughter into the morass and use this innocent new life and her name as a stick to poke in Tom Cruise's eye? No. Just as I don't believe that Suri Cruise is named after Surrey, England, which is just a hop, skip and a jump from the United Kingdom's Scientology HQ. I mean, Kidman's father is a shrink, so hopefully she's been able to work through her bitterness issues.
In fact, it seems that it was Kidman's father who provided the inspiration for the name and that Sunday was named after a prominent Australian who was a great patron of the arts and muse to artist Sidney Nolan. Dr. Kidman told The Daily Telegraph that, "I have read a bit about Sunday Reed and her husband John– she was a key mover and shaker in the arts around the beginning of the century. The name Sunday struck me as being a nice name for a woman, so my wife and I mentioned it."
In the end, people might be more apt to raise eyebrows at the name due to Reed's alternative lifestyle — she and her husband were involved with Nolan — more so than any anti-Scientology conspiracy. Indeed, it would seem that the only power associated with Sunday's name is that of a muse, which is great power indeed, but not the kind that the media and gossip mongers would like to ascribe to it.