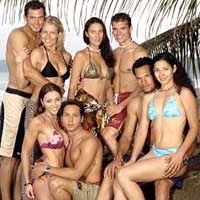 It's easy to complain about the glut of reality TV this summer–"Celebrity Circus," "Wipe Out," "High School Musical: The Series," etc. But then I started thinking about it, and really, reality TV has actually improved–generally speaking–from where it started. Anyone remember Darva Conger? How about Joe Millionaire?
So going back in time, here are my top five picks for worst reality TV series. I decided that celebrity reality series are a separate category for me to rant about on another day– look out Paula Abdul– so I stuck to the more generic reality series. Even so, there were many to choose from. As always, feel free to leave your picks in the comment box below.
"Temptation Island": This was the first show to try to profit off of encouraging marital infidelity as hot-looking couples were stranded on an island with other hot-looking couples.

"Who Wants To Marry A Multi-millionaire?": Yes, this is the original dating reality show that spawned a million other pathetic dating shows. Darva Conger, the bride, didn't get a husband, but she got big bucks for posing in Playboy after it was all over.
"The Swan": Slicing and carving women under the pretense that plastic surgery will solve all of your problems, this show was one of the first makeover series on TV.
"The Mole": No , this show isn't on the list because it is salacious–it's because it was just plain boring and I can't understand why it's being brought back to TV this summer.
"Mr. Personality": This show had guys in masks competing for one girl's attention and had Monica Lewinsky as a co-host. Need I say more?
So what do you think? What's the worst reality TV show you've ever seen?