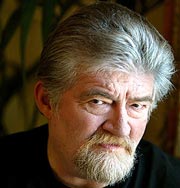 One of the most notorious screenwriter/producers of modern movies, Joe Eszterhas, is releasing a memoir this fall in which he reveals how he went from writing tawdry hits like "Basic Instinct" and "Showgirls" to finding a relationship with God. Blogger Sharon Waxman reports that she has a conversation with the screenwriter in which he discussed his return to the Catholic Church and how finding religion helped overcome his many addictions..

This is not the first memoir Eszterhas has written. Back in 2004 he wrote the best-selling, raw, salacious tell-all "Hollywood Animal" in which he described in shameless detail his sexcapades with Hollywood actresses and nasty battles with Hollywood execs.
With "Crossbearer," it seems the publisher is pedaling a softer image of Eszterhas. The press release for the book on their website states that the book is "powerful, poignant, and sometimes wryly humorous account of a streetwise and cynical man's newfound faith…"
I certainly hope that is true. I am in no position to cast doubts on someone else's conversion. At all. But what does have my curiosity piqued is the timeline the new book mentions. It notes his religious awakening as taking place in 2001. But as I mentioned, "Hollywood Animal" was released in 2004. So I just can't help but wonder how someone who had returned to his Catholic faith then decided to go ahead and peddle a book that threw numerous people under the metaphorical bus.

I also raised an eyebrow when I read Waxman's interview where she quotes Eszterhas as pointing out that his former partner, director Paul Verhoeven has also turned to religion for inspiration. Apparently, Verhoeven has written a book as well–scheduled for release next year–about the Virgin Mary in which he claims Mary conceived Jesus because she was raped by a soldier. Huh?
I am hoping something got lost in translation in Waxman's interview, because if Eszterhas is hoping to sell "Crossbearer" to Middle America on that cultural connection, I see a problem.
Such unanswered questions have accomplished their objective: I am sure I will be checking the book out this fall.