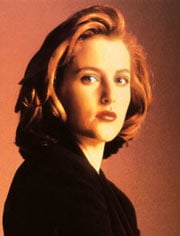 This summer's upcoming reboot of the "X-Files" franchise after more than six years of living in a Mulder and Scully-less world, rebirth of the "Star Wars" franchise in the form of a computer-animated feature film and television series, and retirement of "Battlestar Galactica," as it (hopefully) finally finds Earth, got us thinking about the great relationship between science fiction and religion.
And so, we give you our list of the ten greatest spiritual characters in science fiction. Some greats had to be left out, of course, and we're sticking to Sci-Fi as a visual medium here. Please let us know your favorites are in the comment space below.
10. Palmer Joss – "Contact" (1997)
Carl Sagan may have been an atheist, but it was in his nature as a scientist to never cease asking questions. As a counterpoint to Sagan's staunchly nonreligious alter-ego, Ellie Arroway, Palmer took a stand for God, and Ellie's attraction and loyalty to him forced her to scrutinize her own take on God and religiosity in spite of her commitment to science and empirical evidence.

9. David – "A.I" (2001)
Steven Spielberg's hypnotic retelling of Pinocchio meditates even more deeply on the implicit religious questions raised by the classic tale. This time, the man-made boy who wants to be real must go on a quest not just to become human, but to understand what it is to love, to find one's Eden, and to live forever.
8. John Connor – The "Terminator" Series (1984-Present)
Like a great Biblical figure, we know John Connor mostly through the legends told of his heroism and leadership following the near annihilation of the human race. But Connor is a textbook case of the sort of moral authority and selfless crusader that brings out the best in his followers and reinforces the general worthiness of the humans he devotes his life to saving. And the initials "J.C." are hardly coincidental.
7. Shepherd Book – "Firefly" TV Series (2002)
Though we never end up learning the truth about Shepherd Book's mysterious background, it hardly matters. Book was the spiritual core and assured voice of reason to the often troubled and turbulent crew of the Serenity. He was a model for the redemptive power and healing potential of spiritual clarity and guidance, and one of "Firefly" mastermind Joss Whedon's most endearing and compelling creations.

6. Obi-Wan Kenobi – "Star Wars" (1977)
When the world first met Obi-Wan Kenobi, he was a wise keeper of an ancient religious order. As the "Star Wars" saga continued to unfold over the ensuing 30 years, we came to know Obi-Wan as a tragic hero whose steadfast devotion to faith and principle, along with his enduring benevolence, made him a spiritual role model for more than just one generation.
5. Morpheus – "The Matrix" (1999)
While Morpheus mostly plays sidelined coach as Neo and Trinity get to play superheroes in this epic Sci-Fi reframing of the Gnostic Gospels, there is no doubt that Morpheus is the most devout and faithful of the story's major characters. Without his unwavering faith in the liberation of the human race and Neo's destiny to realize that liberation, mankind never would have stood a chance.
4. John Locke – "Lost" TV Series (2004 – Present)
One of the standout characters in a show absolutely bursting at the seams with great characters, Locke remains the faithful anchor of Lost. Unlike his fellow 815 survivors, Locke has always known he was brought to the island to fulfill and spiritual destiny. "Tabula Rasa", which explains Locke's unique disposition, remains one of the most moving and best episodes of Lost, and we continue to love Locke because he is every bit the embodiment of the adage, "The opposite of faith is not doubt, it is certainty."
3. Kara "Starbuck" Thrace – "Battlestar Galactica" TV Series (2003 – Present)
Has fiction ever produced a character who better embodies the complexities of spirituality and religious devotion than Kara Thrace? Hot-headed, quick-tempered, and often blasphemous, Kara still can never secularize herself and divorce herself from theology the way her peers seem to. Her story is the very model of the religious journey: forever questioning the status quo, struggling to find meaning in everything, and demonstrating an unceasing faith in her supposed destiny.
2. Dana Scully – "The X-Files" TV Series (1993 – 2002)
Scully's complex relationship with faith and religion makes her story one of the most enduring and relatable ones in Science Fiction. Forever the rational scientist, things began to change for Scully when she was paired with paranormal investigator Fox Mulder. Scully could only rationalize and explain away all that she's witnessed for so long, and ultimately her doubts and a miraculous recovery from terminal cancer led Scully down the path of faith, turning her into a truly compelling and moving portrait of someone who has learned to value faith and science equally. We could stand to learn a lot from her.
1. Yoda – "The Empire Strikes Back" (1980)
Was there ever any question about this one? The spiritual wisdom of Yoda is absolutely ubiquitous in contemporary Western culture, and his mangled-English adages, like "Wars not make one great," "You must unlearn what you have learned," and "Try not! Do, or do not. There is no try" are never far from the hearts and lips of an entire generation of spiritual seekers. Yoda successfully brought Eastern philosophy into the pop landscape, and his compassion, morality, conviction, and devotion to his faith make him a compelling, universal role model.
–written by John Brooks