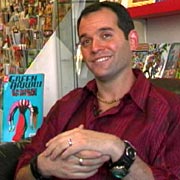 It's difficult—if not a little depressing—to believe that the "Real World" franchise is now 15 years old. Love the series or hate it, it undoubtedly has influenced pop culture and had much to do with the boom of reality programming we have today. That is why MTV is celebrating with a TV special and numerous press outlets are featuring various "where are they now" retrospectives.
I haven't watched "The Real World" in years, but I admit to being completely hooked on the first two seasons and then occasionally dropped in on the next few seasons after that. Before it became the over-the-top, non-stop. salacious booze and sex feast that it is today, the series at one point actually had some intelligent, interesting characters with strong religious beliefs from time to time. So here are my top five favorite, inspiring "Real World" castmates. Feel free to discuss your favorite—or not so favorite—cast member in the comment box.

5. Judd Winick: An endearing Jewish cartoonist from New York moved to San Francisco and spent much of the time in the house fathering his fellow housemates and fighting with obnoxious cast member Puck Rainey over Puck wearing a swastika on a shirt. Judd's friendship with Pedro Zamora, a Cuban man with AIDS who lived in the house, was especially touching.
4. Matt Smith: Part of the New Orleans cast, Matt successfully deflected Mormon castmate Julie's advances while quietly and steadfastly representing his Catholic faith. He still currently works in Catholic ministry.
3. Jon Brennan: Country bumpkin Jon took all kinds of verbal abuse from his Los Angeles castmates for his Christian beliefs, but the most powerful moment of the series was when he showed his unconditional love by helping fellow housemate Tami recover from the trauma of her abortion.
2. Julie Stoffer: Watching this sweet Mormon girl spread her wings on the New Orleans season was humorous, painful, and totally relatable as she struggled with her feelings about gays, God, and everything in between.
1.Julie Oliver: Julie will always be the original and best girl-next-door. Despite attempts by some castmates—not to mention random people on the mean streets of the Big Apple—to corrupt her in more ways than one, Julie held on to her Southern fundamentalist values while charming the audience at the same time.