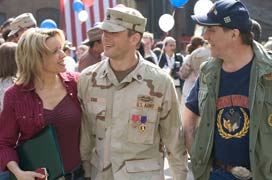 In the upcoming military movie "Stop Loss," releasing March 28th from MTV Films, Ryan Phillippe plays an Iraq war hero who returns home from his tour of duty and tries to go back to his civilian life. Then, against his will, the Army orders him to return to active duty. The movie examines issues with friendships, family life, and honor that many soldiers and Marines today are facing.

If you haven't already seen it, Beliefnet has created an amazing video tribute to the troops called, "When You Come Home."
Click here to check it out.
And, if you're part of a military family and would like to connect with others in the Beliefnet community to talk about some of your daily struggles and concerns,
click here.