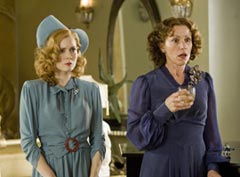 Delightful is the best word to describe "Miss Pettigrew Lives For a Day," a gem of a period film starring Amy Adams as the zany Delysia Lafosse, an aspiring actress, and Frances McDormand as Miss Pettigrew, a governness turned social secretary overnight.
I loved Amy Adams so much in "Enchanted" that I'd be willing to pay to see her read (or rather, sing) the phonebook. "Miss Pettigrew" turns out to be yet another ideal vehicle for Adams' wide-eyed, comedic innocence, not to mention her stunning voice. Winning isn't enough to convey her screen presence–she simply lights up every scene and delivers some hilarious zingers without missing a beat.

Perhaps the most unexpected wonder of this story of female friendship (and hardship) comes from Miss Pettigrew herself. Frances McDormand is so genuine, so lovable, so vulnerable as Miss Pettigrew that she not only holds her own next to Adams, but almost steals the show. The rags-to-riches (or something like that) theme is really about Miss Pettigrew. She stumbles from a homeless shelter after getting fired from her latest governness gig into the social life of the sparkling, man-magnet Delysia Lafosse. As Miss Pettigrew helps Delysia successfully negotiate from one man-crisis to the next, offering Delysia some much-needed wisdom on true love, Delysia's gratitude is genuine and lavish, and soon Miss Pettigrew goes from down and out to delicious in her new digs and hairstyle, courtesy of Delysia. It's not often that the middle-aged woman gets the makeover, but it's all the sweeter when it happens.
And if this movie is about anything, it's about how friendship and salvation go hand and hand. All Miss Pettigrew–and Delysia Lafosse for that matter–needs is a little love and kindness to restore herfaith that the world has wonderful things in store, and that romance is not only for the young. Sometimes the middle-aged who thought they were all washed up suddenly findthemselves all aglow, too.
"Miss Pettigrew Lives For a Day" is not to be missed.