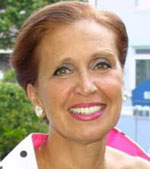 "I've always loved coloring eggs and having Easter egg hunts with my kids. Religiously, the notion of resurrection and being reborn is very meaningful to me. After the dark days of Lent, Easter is a time of hope!" says Danielle Steel on her website.

Danielle Fernande Dominique Schuelein-Steel is one of the best-selling authors in America and has sold over 570 million copies of her books. Steel, whose new book "Honor Thyself" was released in March 2008, had childhood dreams of becoming a nun, until she was lured by her writing instincts and became an author. In an interview with Reuters she also reveals her love of religion and how religion helped her "hang-on" during some of the most difficult events in her life.
"I wanted to be a nun when I was young. Religion is what keeps me going, I would be utterly lost without it," says Steel in her interview with Reuters. "I was brought up a rabid Catholic and there have been times–like when my son died and my (fourth) husband had left me–I went to mass twice a day just to hang on. It's a very present support system for me. It's not for everybody but it works for me," she says in this interview.

Reuters also reports that even though she didn't choose to become a nun, religion has remained a strong part of her life. Though, Steel's life is quite a contrast from the life she would have had to lead as a nun. After having been married five times, she has seven biological and two adopted children and splits her time between homes in San Francisco and Paris.

Steel's new book, which is a sort of a departure from her usual romantic tales and mainstream drama novels, is a story of female courage, fortune, fame, and fashion, with a miraculous turn in the story. This somewhat ties into Steel's life where her fame and success prevented her from becoming a nun.
"Honor Thyself" is a story of a famous woman who has an accident that leaves her not knowing who she is. However, in this life-threatening crisis she is forced to rediscover her roots, herself and to count her blessings. This is a story of survival and one woman's gutsy journey and promises to be an inspiring read.
–written by Visi Tilak