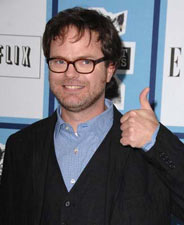 The Oscar broadcast last night was okay. Too many montages and a few upsets in my predictions (rats!). Stewart was funny, but it wasn't his "A" game (The best line being "'Atonement'. Finally a movie that captures the raw passion of Yom Kippur.") And in fact, after watching a joyful celebration of film over at the Independent Spirit Awards—televised on AMC and IFC the night before Oscar—there was no way Oscar could come close in style and substance to these more laid back awards.
The Independent Film Awards were better because:
1. They had a worthy tribute to Heath Ledger that moved everyone to tears. The Oscars did nothing.
2. Rainn Wilson's ("The Office") comedy bits were funny enough to possibly make him the host of next year's Oscar.

3. The cast of "Once" accepted their much deserved award in blue jeans. (That's right, there is actually one award show where no one asks "What are you wearing?")
4. Brad Pitt and others seem relaxed as they made fun of themselves in pre-taped bits and Steve Zahn's Dylan spoof was not to be missed.
I am sure the Independent Film Channel will be rebroadcasting the show, and the highlights will eventually show up on YouTube, so if last night's Oscars put you to sleep, check out the awards show that celebrates the pure joy of creating art.