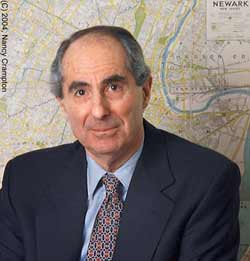 Philip Roth's newest novel, "Exit Ghost" is the ninth–and, it seems, last–to feature Roth's favorite character and alter-ego, the famous American-Jewish novelist Nathan Zuckerman. We'd first encountered Zuckerman nearly 30 years ago in 1979's "The Ghost Writer," a novel that, more than any other of the Zuckerman books, sets the stage for "Exit Ghost." The two serve as explicit bookends, a call-and-response, to the life of Nathan Zuckerman, as documented by Philip Roth.
If "The Ghost Writer" was the portrait of a young writer–with his whole life ahead of him–encountering his literary idol, "Exit Ghost" is, as the name implies, the story of a writer in his twilight, who must defend that literary idol's legacy. As only Roth can, the novel provides one of the most detailed, insightful, and unstinting looks at aging that I've read, an unsentimental portrayal of a once-viral, always brilliant man slowly losing physical, and then mental, capacities.

As "Exit Ghost" begins, Zuckerman has been living an almost-hermetic life in the Berkshires for 11 years, focusing on his writing and consciously avoiding human contact, aside from a few neighbors, as well as media and other doors to the outside world. Suffering from the after-effects of prostate cancer, however–incontinence and impotence–he travels to New York for a procedure that holds out the hope of helping the first, though not the latter, of those ailments. Once there, he is both terrified and fascinated, attracted and repelled by the prospect of social contact and the changes that have been wrought on his once-familiar terrain. He impulsively decides on a year-long house swap with a young couple looking to get out of the city, and, not surprisingly, falls for Jamie, the attractive young woman from that couple.
Amidst all this, he is badgered by a young journalist writing a biography–a scandalous biography, no less–of E.I. Lonoff, the now-obscure writer who he visited in "Ghost Writer." He also reconnects with Amy Bellette, the then-young woman who was also at Lonoff's house that night so many decades earlier. Amy's affair with Lonoff ended the writer's marriage, and she and Lonoff lived together for four years, until Lonoff's premature death. Now Amy, frail and dying of brain cancer, lives in near-poverty, never having had another relationship since Lonoff.

Together, Zuckerman and Amy work to stop the Lonoff biography from moving forward, but in their physical and mental decline, there's not much hope. Aging–and its accompanying indignities and anxieties–pervades this book. Zuckerman resents and takes an immediate dislike to Richard Kliman, the journalist-biographer, for little more than being young and healthy and unapologetic about it. A mind once so sharp he could write down conversations well after they took place, Zuckerman now relies on a "chore book" to remind him of both what he is scheduled to do and what has happened–who said what, what he has found out. And a man who's probably engaged in more sexual encounters than even a healthy person could recall is forced to wear a pad that he must change regularly or risk the great embarrassment of a visible leak.
No wonder Zuckerman is compelled to leave his Berkshires refuge for the first time in 11 years and pursue even the faintest glimmer of medical hope. What he finds in the city, however, is overwhelming. Cell phones are everyone, everyone constantly talking and saying nothing, the young women are as attractive and tempting as ever, but his body won't allow what his still-intact libido so desperately wants. It's all too much, and more than once throughout the book, he packs his bags, ready to leave, yet unable to tear himself away.
As for Amy, she lives with the lingering legacy of Lonoff still an active piece of her life. She shows Zuckerman Lonoff's shoes, which she could not bring herself to discard of, despite the decades he's been dead, and insists it was Lonoff who dictated a letter she sent to the New York Times. But her tumor has destroyed her memory and changed her personality. She can't recall whether she gave Kliman part of the unfinished Lonoff novel that serves as the main source for the scandal the biography will reveal. Together, she and Zuckerman can't remember much about what they did or didn't tell the intrusive journalist–they can't even remember what restaurant they agreed to meet at for lunch.
In the end, Zuckerman is left with what's left of his novelist's imagination, fantasizing in his writing, about making the moves on the young woman he's fallen in… lust? obsession?… with. And like Zuckerman, we the readers are left wondering whether their interactions are real or part of the novelist's faulty memory and active imagination. Did that phone conversation belong in the snippets of Zuckerman's writing we see in "Exit Ghost," or was it correctly placed in Roth's narrative about Zuckerman? We can never know. Sadly, neither can Zuckerman.
Goodnight, Nathan.