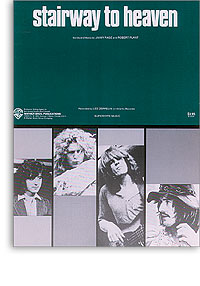 Ah, the holidays, time for family feasts, parties, and rock-radio countdowns of the greatest songs of all time. At Thanksgiving, Christmas and New Year's, classic-rock stations traditionally turn to these listener-driven stunts ("You picked 'em, we're playing 'em") to salvage some ratings oomph while their audience is distracted by football and family lore. More traditionally yet, "Stairway to Heaven" by Led Zeppelin always, always, takes the top spot.
The song has little to do with religious visions of paradise, even if the lyrics' author, Zeppelin vocalist Robert Plant, says the song's opening lines came to him in an almost supernatural fashion. Suddenly, he has said, "my hand was writing out the words, 'There's a lady who's sure, all that glitters is gold, and she's buying a stairway to heaven'. I just sat there and looked at them and almost leapt out of my seat." Plant explains was that the phrase itself "was some cynical aside about a woman getting everything she wanted all the time without giving back."

"Stairway to Heaven" isn't the only repeat appearance, of course. A knot of meaningful themes usually hover around the bottom of the top ten, though year to year they vary, perhaps with changes in the cultural currents.
On the New York station I was listening to over the Thanksgiving weekend, John Lennon's "Imagine," echoing the 2007 bestseller lists' doubts about heaven, hell and religion, came in at no. 13—its highest placement in at least four years.
At no. 11, The Beatles "Let It Be," with its reverent stoicism and churchy organ, gained several places over recent years. Nearly constant over the years, at no. 9 or 10, is the popularity of the Stones returned with "Sympathy for the Devil,"in which Mick Jagger, as Lucifer, sings, "What's puzzling you is the nature of my game." The mystery of why bad things happen, one surmises, is eternal.