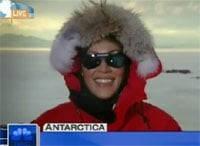 It's been beautiful. It's been a welcome change. It's been a bit hokey at times. But all-in-all, NBC's weeklong commitment to raising awareness of Global Climate Change has been in informative and inspiring addition to this week's programming, highlighted by the ends-of-the-earth segments that have screened everywhere from "The Today Show" to all of the news shows and newsmagazines in the NBC/Universal family of networks.

Matt Lauer has been live from Greenland, "the epicenter of climate change" in the Arctic Circle. Ann Curry has been live from Antarctica, "the planet's air-conditioner." Al Roker has been in Ecuador at the Equator, earth's "engine of biodiversity," in both the cloud forests as well as the line where you can stand in both hemispheres at the same time.
The Arctic Circle pieces have been the strongest with regard to climate change issues. Time lapse photography has shown ice moving and melting. Comparison pictures have shown icebergs growing in number while glaciers melt en masse. The people of the island nation (three times the size of Texas) are having longer shipping and growing seasons, and able to access more natural resources due to the ice melt. Doing segments between windstorms and white outs brought a bit of journalistic re-standardizing, as Lauer went unshaven and revealed he was "freezing my you-know-what off." The "Seal and Pigheart Stew" was a visual I won't soon forget.

The Antarctic reports are by far the most other-worldly, from a land where temperatures are ranging from one to sixty below zero and where people can die in five minutes of exposure. The Southern-most continent cannot support community life of any kind, and is populated only by researchers and scientists willing to survive in a land where the sun usually is either never rising or never setting, depending on the season. From McMurdo Station on the continent that is about 1.5 times the size of the U.S., Curry reported from the coldest, driest, windiest place on earth.

The Equator segments weren't as dramatic, as Roker was left to report on such things as an animal known as the "Blue Footed Boobie" while trying to balance an egg on a nail. And there's just nothing like seeing him lean into a toilet to dispel the myth of which way the water circulates in the different hemispheres!
I did learned a lot of interesting factoids from the segment though. For example, Ecuador is one of 13 countries that straddle the equator (Indonesia, Kiribati, Somalia, and Brazil are some of the others). And what exactly is a cloud forest you may ask? It's actually a rainforest at higher elevations–in this case hosting 330 species of birds including 40 species of hummingbirds alone. And, apparently, "94% of all species on earth originated in the tropics," (I want to do some research on that one).
I think NBC overdid it a few times, calling Al Gore "one of the best minds on the planet" or when the NBC Football Night in America team broadcasted in the dark to illustrate, well, something I couldn't figure out. But it was still fun to see live and taped windows into a world many of us will never get to while learning fun facts (like Greenland is mostly ice and Iceland is mostly green). And "if Greenland sneezes, the world catches a cold."
But we all have a lot to learn about an issue that Evangelical Christians have overlooked for far too long–as if theology and doctrinal study exempts us from being a steward of our planet, the resource that God has given us to take care of. It's also humbling to realize how difficult it is–even in our advanced society–to send sound and images from such remote places, especially Antarctica.
NBC/Unversal's "green" focus continues for the rest of the week. You can get a DVD of the segments by
clicking here.