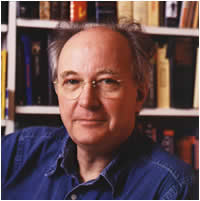 I am a bit star struck. Well, more than a little bit.
Philip Pullman, author of "His Dark Materials", the subject of a growing controversy from the religious right, and a man who is about to see his extraordinary novel, "The Golden Compass," turned into a movie by New Line Cinema, is this week on a rare visit to the United States. For the last two days, I've had more than just a glimpse of my literary idol: I had the amazing opportunity to sit down and talk to Mr. Pullman at length about theology and Dust and the imagination, among other wonderful things.

When first I learned I'd be having this conversation with Pullman, my stomach tied up in knots. I felt flushed and nervous. You have to understand: I think Pullman is one of the greatest literary figures of our time, and his trilogy, "His Dark Materials," is one of the greatest literary achievements I've ever come across–the kind of story you come back to again and again at different ages, each time discovering something new, reading it in different ways, asking new questions, and realizing there is always more to find with each encounter, all marks of great literatue.

Meeting Philip Pullman was my equivalent of meeting Brad Pitt, one-on-one. And I told Mr. Pullman as much. He laughed very hard and then responded, "No one has ever likened meeting me to Brad Pitt in my entire life." His wife (who was at the table nearby) chuckled and concurred.
And, I am happy to report: he is wonderful! Gracious, funny, brilliant, open-minded, and perfectly willing to sit down with a Catholic scholar like myself and talk theology. Delighted to, I think.
I am even further convinced that if those Christians who are spreading anger and fear about this man and his work actually paid attention to Pullman–listened to him speak, heard him in conversation with an audience, with children (which I had the fortune of doing last night)–they'd realize that the controversy they have been puffing up has no substance. They'd realize that Pullman, in the most fundamental way, is simply an amazing storyteller, a brilliant man who hasn't ever lost the childlike wonder of youth and has a way of spinning this onto the page in the form of questing children and armored bears and aeronaut Texans, a person who delights in children's questions ("If you had a daemon Mr. Pulllman, what would it be?"), and someone who loves to sit down and talk about Big Questions, Big Ideas.
Why in the world are people villainizing a man who has graced (yes, that kind of grace) us with such a rare and wonderful epic adventure, who is a bit awed and delighted himself (if I may speculate after these last two days) that so many people in the world have taken up our alethiometers and subtle knives and entered into this adventure with him?