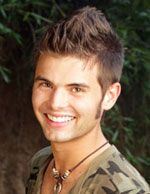 Now in its 20th season (can you believe it?) on CBS, "Survivor" still has some tricks up its sleeve. This season, the show is set in China, and incorporates many new twists like a "kidnapping" stunt.
However, some habits die hard. "Survivor" has come under fire before for its casting practices. They have openly recruited cast members (including this season's Ashley, who is a wrestler for the WWE) and have a disproportionate amount of struggling actor/bartenders or actor/massage therapists from the LA area. "Survivor" also loves to cast people who fulfill stereotypes, and China is no exception. Meet Todd Herzog, this season's gay guy. Who is also Mormon.

In the past, many gay male contestants on "Survivor" have been portrayed as prissy, backstabbing divas. Todd isn't the first gay man to appear on the show–in fact, a gay Mormon man named Rafe made it to third place on "Survivor: Guatemala." But Todd, a flight attendant, is an early favorite this season, and he's very open about discussing his religion. Several prominent LDS publications have already started criticizing Todd, including the The Salt Lake Tribune, who questioned Todd's love of drinking coffee, which is prohibited for Mormons. In fact, the article argues, if he's openly gay, can he even be considered a Mormon at all?
In a country that can't stop talking about Mitt Romney's faith or the recent Warren Jeffs trial, Todd is a valuable asset to "Survivor," a show that tries hard to remain topical. As for whether he'll be edited to look more like a "prissy diva," well… that's yet to be seen.