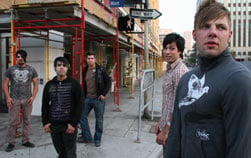 Though you may not have heard of the Christian rock band Transistor Radio, they just might be praying for you. According to the band's Myspace page, the band loves to accept prayer requests and gathers every Thursday to "pray and practice." They also offer their email address–in case you'd like them to pray for you or know someone else in need of prayer.

The cool Orange Country quintet has graciously provided Beliefnet with five autographed copies of their debut album, "A Legacy Between," to give away.
Want one?
Post a comment below by September 21, 2007, telling us about your favorite answered prayer. Make sure to include your email address in the designated area (don't worry, it won't be made public). The most original response–based on the judgment of Idol Chatter's editors–wins. Have fun with it, be creative (but honest!), and a CD could be yours. We'll notify the winner by email.
For the legal stuff, please
click here.