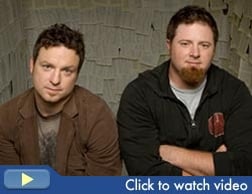 Popular Christian group Shane & Shane—comprised of friends Shane Barnard and Shane Everett—has been bringing a hip, acoustic, pop-rock sound to praise music for 10 years, headlining shows with big-names Mat Kearney, David Crowder Band, and Bethany Dillon, among others. Their first album in nearly three years, "Pages" is set for release August 28th and they begin touring with popular Christian artist Bebo Norman next week. Watch a video clip of the artists talking about life on the road, and a performance of their new song "Vision of You."

And, as an extra treat, Beliefnet has an autographed collection of Shane & Shane albums to give away.
To enter the contest, post a comment below by August 28, 2007, telling us why you love the band. Make sure to include your email address in the designated area (don't worry, it won't be made public). The most original response–based on the judgment of Idol Chatter's editors–wins. Have fun with it, be creative, and the CDs could be yours. We'll notify the winner by email.
And now, the legal mombo jumbo: for complete rules and regulations, please
click here.
UPDATE:
Congratulations to Michelle D. from Springfield, MO. for her winning entry. She wrote, "By having access to [Shane and Shane's] music, it helped me make it through a very hard time of depression and homesickness, as I was spending time doing missions work in another country. When I came back to the states, the same ministry to my spirit continued as a result of the music from these guys. It helped me to make it through the transition back to what most people think of as the 'normal' world because of how it helped me to focus on the right things–God and His thoughts–not me and my thoughts."