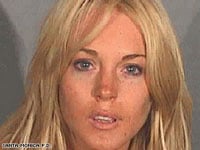 Out of the "3 Bimbos of the Apocalypse" (as the New York Post calls Lindsay Lohan, Britney Spears, and Paris Hilton), I've always felt more sympathetic towards Lohan. She has a dad who's done his own share of jail time, and a manager mom who cares more about making it in show business than she does about her own daughter. It's no wonder she's so self-destructive.

That's why I was so sad to hear that Lohan, who was just
released from rehab two weeks ago
, was arrested again early this morning for drunk driving, possession of cocaine, and driving with a suspended license–among other charges. Apparently Lohan was driving in a Santa Monica parking lot, "chasing" another vehicle. This also comes after she was
booked last week on charges
of driving under the influence of alcohol and a misdemeanor hit and run stemming from an incident in May.
Interestingly enough, the SCRAM alcohol monitoring device she's been spotted wearing on her ankle as part of her rehab release (she wanted to "prove" that when she was out partying with friends, she was sober) supposedly did not indicate she was intoxicated and notify police, as it should.
According to TMZ.com
, who contacted the company who monitors the bracelet, a rep claims she "didn't even know [Lohan] was arrested." And, according to
the manufacturer's website,
"The SCRAM Bracelet's patented anti-tamper features ensure that test results are accurate and from the correct subject."

So either Lohan found a way of drinking/drugging while lugging around the device, or it was defective, or perhaps, a useless decoy all along. I'd speculate it was the latter–a big scam, just like her stint in rebab. She didn't try to make herself better; it was all a publicity stunt to get the media off her back for a little while. (Yeah, like that would ever happen!)
So, my advice for dealing with Lohan? Throw her in the slammer and hide the key.
Years ago, when I was in high school, as part of a criminal justice class, I got to tag along on a "Scared Straight" visit to New York's largest jail facility, Rikers Island. We were told we were going to visit the men's general population area, as well as the section of the jail that housed the mentally disturbed inmates, who were held in solitary confinement.
Visiting the women's section was completely out of the question, said our guide, as the women were the worst of the worst and wouldn't think twice to throw feces or their used tampons and maxi pads at us, or possibly stab us with a handmade sharpened pork chop bone shank if we got too close to their cells. The juvenile section was also apparently too wild for us to tour.

The day was filled with cat calls, screaming inmates pounding on jail cells, and lots of mean faces and crazy-eyed stares.
That experience was one of the most frightening of my life, and I knew right then and there that I would never, ever put myself in a situation where there was a possibility I'd be on the other end of those bars. I stopped talking to a number of friends who were heavily into drugs and partied too hard for my taste. Some of those friends wound up OK. Others now have criminal records.
Lohan really needs to see what it's like in prison. I'd suggest Paris Hilton, her
frenemy
and partner in DUI crime, talk to her about how horrible her jail experience was–you know, with having
to eat bologna sandwiches
and having to wear a really unfashionable orange jumpsuit.
But somehow, I think Lohan would be able to do a short amount of time in a similar environment (solitary confinement for most of the day) without mentally breaking down like Paris did. She's always seemed a bit rougher around the edges. Plus, while in rehab, her reading material of choice was
"The Prince" by Machiavelli
, from which she most likely took away it's most popular piece of advice: "It is best to be both feared and loved, however, if one cannot be both it is better to be feared than loved."
I say let's put some fear back into Lohan. What she really needs is to be put in general population with other inmates. Only then may she be able to see the downward spiral that her life is becoming and maybe get a chance to reevaluate her friendships. They must be really great pals to be handing Lindsey drinks and drugs, or at the very least, contribute to her behavior by agreeing to go "partying" with her.
Lohan, like Paris did, will most likely try to use her celebrity to avoid jail time. I can only hope that whoever sentences Lohan takes a lesson from Superior Court Judge Michael T. Sauer–who sentenced Paris to 45 days in jail for violating her probation–and not buy into the hype that the rich and famous should get an unlimited supply of Get Out of Jail Free cards.
Lohan obviously needs help with her drug and alcohol problems, but going to fancy-pants luxury rebab centers hasn't done the trick. Let's see if scaring the crap out of her works.